Hey everyone!
I know, it's been a few months since my last update, so I thought I'd fill you in on what I've been up to. A lot of you have been asking for updates about me, whether or not my account was terminated, or what I've been up to.
So, here goes.
What have I been? What have I been up to?
So, I took a 6 month break from all things Merch by Amazon (including this blog – sorry guys!). I haven't uploaded any designs since Christmas, I haven't written any new blog posts, and I haven't sent out any newsletters or anything like that.
I'm still very much in the Merch by Amazon scene, although it may seem like I've dropped off the face of the planet. I still reply to emails when I can and I still chat with some of you on Facebook. And of course, I still check my Merch sales several times a day. I also have the opportunity to beta test a lot of different Merch-related products and software and had several people reach out to me over the past few months. I've recently updated my Resources page, so anything new or cool I use can be found there.
So, what I have I been up if not Merch?
As I mentioned in previous posts, I have a 2 year old son, a daughter in kindergarten, my wife started working, and I accepted a new position at my company about a year ago. Between those things, I keep pretty busy.
Over the last few months, I made a point to find a hobby outside of work and Merch by Amazon. Many people experience burnout in my position, so I'm taking steps to ensure that I don't overwork myself because I really enjoy my job right now. One of the hobbies I picked up was scrollsawing. Surprisingly, scrollsaws aren't very loud and getting started with scrollsawing isn't very hard or expensive, so it's something I can do when the kids are asleep and is a really good hobby to have that doesn't involve sitting in front of a computer.
Here's one of my latest projects: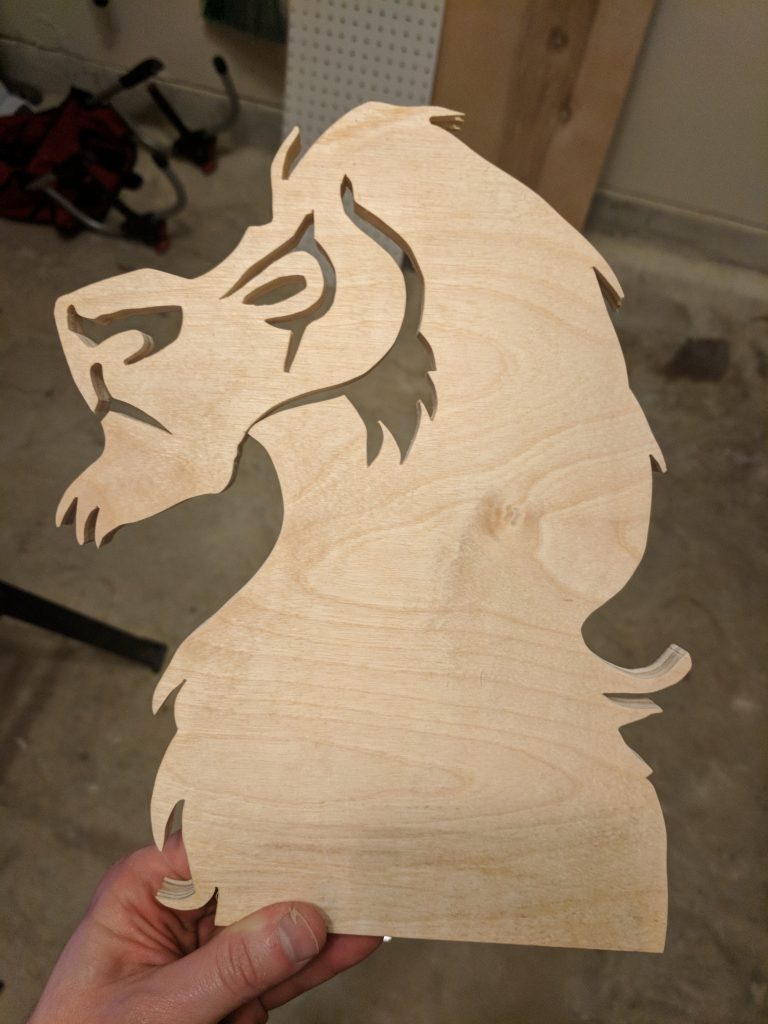 Other than that, everything is still going well in my life! I'm sure most of you are interested in my sales over the course of the last 6 months, so here's a quick recap:
Merch by Amazon Stats
As of 5/4/18, here's where I'm at:
Tier: 1,000
Live Designs: 282
Royalties earned:
November 2017:

$1,329.10

December 2017:

$792.02

January 2018

: $297.40

February 2018:

302.81

March 2018:

$475.95

April 2018:

$444.03
And here's a screenshot of my lifetime sales since joining the Merch by Amazon program: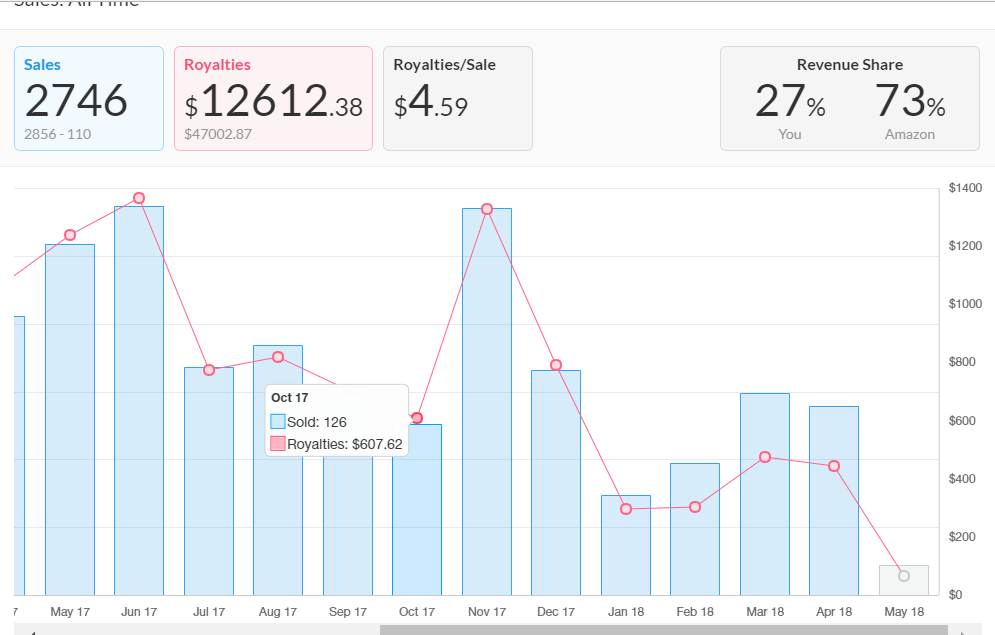 Passive Income with Merch by Amazon
I joined Merch by Amazon with one goal in mind: to generate passive income by selling t-shirts on the Merch by Amazon platform. The definition of passive income is the ability to generate income with little to no work, right? Despite being lazy these past few months, I've still been able to generate an average income of $606.81 additional per month with MBA.
That is, by definition, 100% passive income.
I know I could be making a lot more. And I know many people who started after me are easily making several multiples more than me, and I'm okay with that. Everyone has different expectations and goals with Merch. When I started out, my goal was to make a few hundred extra dollars per month, and by my standards, I am already exceeding my initial goals.
Would I like to be making more? Of course. Who wouldn't? But as with all things in life, priorities shift, life happens, and things don't always go according to plan. Life presented me with an amazing opportunity to manage the entire IT infrastructure at my company, and that has become my number 1 focus. To continue working on Merch-related projects as much as I did before accepting the promotion… would sort of jeopardize that.
So, I let Merch take the backseat for a little while.
However, things are finally starting to come together at the office a little, and I'm ready to get back in Merch. Probably not to the full extent as before, but certainly more than I have over the last 6 months.
What are my future Merch goals?
I always have goals. The nature of Merch is changing, the pricing structure has changed quite a bit. Royalties per sale have dropped as Amazon tacked on additional expenses due to rising shipping costs (which is why my royalties have dropped quite a bit at the beginning of the year). And now, as of May 2018, the royalties earned from any t-shirt that gets returned to Amazon are also being deducted from our monthly payout.
But, there are also a lot of positive things happening with Merch that I can't wait to explore. Hoodies and sweatshirts are enabled for all accounts. All Merch mockups now have a wrinkled texture to them, so the copycat problem is significantly less problematic.
With all that being said, here are my new goals:
Upload all of my best selling designs on hoodies, sweaters, and long sleeves.
Upload my backlog of designs (Probably 200+)
Write 1-2 blog posts a month.
Experiment with micro niches.
I've gotta think that there are extremely small, untapped niches still out there and I'd like to see how well designs in those sell.
I think in a previous posts I had set a goal to pay my mortgage every month. While it hasn't paid my mortgage EVERY month, it has paid it 4 out of the last 12 months, and the months that I didn't reach that goal – it still paid my car payment! That's nothing to complain about in my book.
The demand for Merch by Amazon is still there, guys. People LOVE buying t-shirts on Amazon Prime and receiving them in just a couple days, and people love learning how to make more money on their own Merch accounts.
I see the demand on this blog, too. I don't think I've ever given stats regarding what type of traffic my site sees, or how many vistitors it gets, but here's a quick screenshot to give you an idea…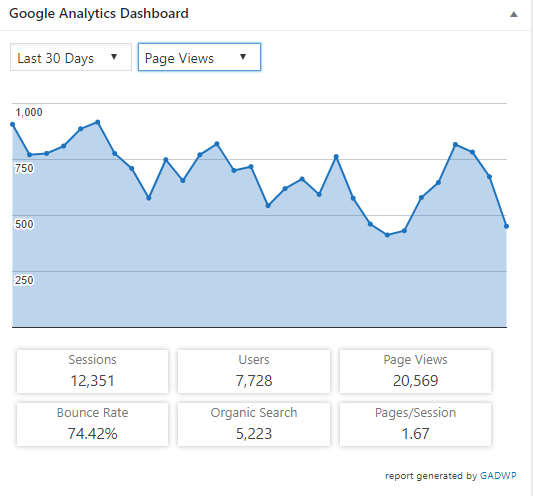 Over 20,000 pageviews – just in the last 30 days! People want to read more about Merch by Amazon. They're hearing about all of these success stories, seeing the screenshots, and constantly trying to find ways to increase their sales by searching Google.
Despite everything, the amount of traffic my blog is receiving continues to go up every month. I think some 87% of my readers are coming directly from Google search results, which is pretty insane to me.
I certainly don't have the screenshots like some of the "gurus" out there, but I like to think I offer a more realistic look into the life of someone who jumps in Merch by Amazon. Not someone who has made Merch their fulltime career. If I could dedicate 40 hours a week, I'd have those numbers too. Since I don't, the most I can offer is a realistic expectation of what you expect to make as a busy person, or as someone with a family.
And luckily for you, there are a ton of new tools and services to help expedite the process for you.
What tools do I still use?
As I've said before, I don't advertise any Merch-related products on my blog that I don't use myself. The staple things I still use as as follows:
I haven't discussed #4 yet (It's now been reviewed here!), and I bet most of you haven't heard of either of these, but I will be putting out a few new articles over the next few weeks to discuss these. Feel free to click the links above to check them out before I write a new post about them.
Finishing Up
If you guys are new to my blog, welcome! Thanks for joining and don't forget to join my email list for special coupon codes (one of which is coming this upcoming weekend. Keep an eye on your inbox!)
If you have any questions you'd like answered, go ahead and leave me a comment below and I'll answer them publicly for all of my readers. It's good to be back writing! I didn't realize how much I missed it.