When a platform like Merch by Amazon comes into existence, new tools and services are bound to emerge. Developing a "first to market" product is usually a great way to solidify yourself as the defacto "best tool" for that particular platform.
For example, you've probably heard of Merch Informer, Pretty Merch, and Merch Buddy. Those were all the "first" products created in their respective categories. Merch Informer dominated the t-shirt research market, Pretty Merch dominates analytics, and Merch Buddy streamlines and simplifies the t-shirt uploading process.
But, being first to market doesn't always mean you are the best. When I created MerchReadyDesigns, I wasn't the first to market. I just did it better than everyone else at the time.
Keeping that in mind, I want to introduce you to Merch Titans.
Disclaimer: Merch Titans gave me a free account and compensated me for my time testing & writing this review. I was told to be 100% honest, whether positive or negative, and have full creative freedom to write my own thoughts using the product.
What Is Merch Titans?
Merch Titans is comprehensive all-in-one marketing research platform built specifically for Merch by Amazon. It offers everything you need to exponentially start, grow, or increase your Merch t-shirt sales.
With features such as Product & Brand Search, SEO Analyzer, Product Tracker, Trademark Alert, and Titan Vault, you no longer have to switch between different programs to do your research. Merch Titans helps streamline every aspect of your business. The more time you save = more time you have to upload more designs, do more in-depth t-shirt research, or even focus on uploading to other POD's.
Merch Titans is beautiful, extremely fast, and the rate at which new features have been added over the last 12 months is incredible.
It's completely free to try out. Click here to try it out!
I already use Merch Informer. Why should I switch?
Every great tool needs a competitor. And don't get me wrong, Merch Informer is a great tool.
But, sometimes stepping outside of your comfort zone and seeing what else is out there is a breath of fresh air. I was actually one of the Merch Informer beta testers and have been a loyal MI subscriber since the day they launched.  However, ever since I was introduced to Merch Titans, I haven't used Merch Informer at all.
Why?
Simply put, I just like it better. It's easier to navigate, it's better priced, and I think Merch Informer is spending too much time developing new modules instead of focusing on their core product.
My goal when using a t-shirt research tool is to help me research t-shirt ideas quicker and more efficiently. (I would never design a t-shirt using research software; that's what Photoshop is for.)
How Did I Discover Merch Titans?
Curtis Blackmore (the founder) first messaged me in November 2017 to let me know about his tool. That was 13 months ago. (I get tons of unsolicited messages from entrepreneurs wanting me to review their product – I turn down 90% of them).
Thinking this was just another fly-by-night tool, I ignored his message.
But, in the back of my mind, I was always curious. His Merch by Amazon blog was constantly updated with high quality, actionable articles. The changes and additions he was making to Merch Titans were things that made me go "Huh. That's awesome! I never knew I needed this until now".
Finally, I decided to take the plunge and try it out.
And as they say, the rest is history.
What Modules does Merch Titans offer?
If you've ever used any sort of merch research tool in the past, then you'll be familiar with how some of these modules work. Some modules, however, aren't found anywhere else or in any other tool.
For example, Merch Titans offers a "Notes" section. This is a feature request I put into Merch Informer years ago and was never implemented. It's a super simple function that really helps me keep everything "Merch-related" in the same place. No more saving to Google Drive, or a Word doc on my work laptop and forgetting about when researching from my home PC.
There is also a soon-top-be-released tool called Merch Titans Automation which will allow you to simultaneously upload your designs to other POD's (more on that later).
Of course, there's much more than just those two. Let's get into some of the other modules offered by Merch Titans.
Account Overview
After logging in for the first time (reminder – it's free to sign up), you'll see your Account Dashboard page. This is pretty self-explanatory, but this is where you can change your avatar, update your password, view previous invoices or manage your subscription.
It's beautiful! But don't just take my word for it, take a look at the backend of the site itself:

Titans Vault
This is probably one of my most-used tools.
Titans Vault is an actively updated (20+ times a day!) collection of the best selling Merch by Amazon products including t-shirts, Pop sockets, hoodies, and even Create Space / Kindle Direct Publishing books.
Within the Titans Vault module, you are able to filter the products however you like to instantly a load a list of the top 100-100 products based on Best Sellers Rank (BSR).
In the Actions pane, you can quickly check the historical BSR, favorite the design, check for trademarks or copyright, and.
Titans Vault sort of takes the guesswork out of researching designs. Inside Titans Vault you have 3 primary filters you can utilize for sorting a massive amount of products. You have the top 100 – top 1000, you can filter by Best Sellers Rank (BSR), and of course by Price, and you can input a keyword to only show t-shirts that fit that exact criteria.
It even highlights the keyword you searched for so you can easily see if the term shows up in the title or bullet points.
Take a look: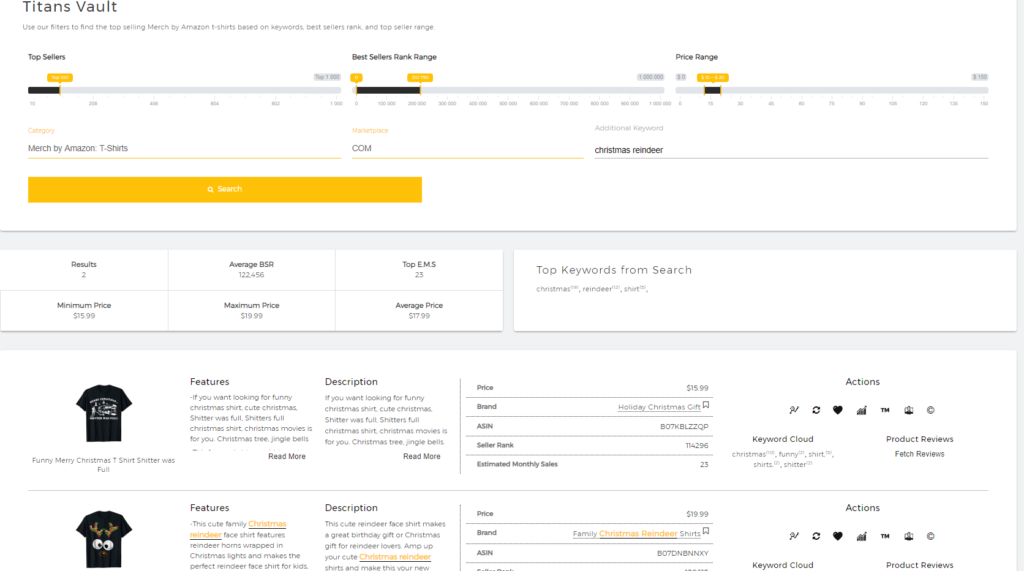 Product SEO
If you're wondering why a certain t-shirt is ranking so high in the Amazon search results, then you're going to love this module. I use this when asking myself,
Which keyword is causing this design to rank so high?
Does this keyword appear in the brand, title, description, or bullet points?
Is the keyword appear in the image?
To use this module, simply input the Amazon ASIN and enter a keyword that relates to a certain niche.
Sticking with the Christmas theme, I found a random t-shirt using the Titans Vault, pasted the ASIN in and the keyword "Merry", and was very quickly able to see that the word was used in the image, the Title, the Brand, the bullet points, but was not found in the description.
Now that I have this data, I can determine whether or not I can create a similar design that can also rank. And if I can, I know I need to put this keyword in those places because that's how this ASIN was able to rank.

Keyword Research
At the end of the day, learning Merch by Amazon keyword research effectively is the key difference between being a good Merch seller and a great one.
Beginners know to use Amazon Autocomplete to search phrases such as "funny reindeer tshirt" to find a bunch of other quotes to potentially create.
Experienced sellers know how to leverage other platforms such as Google or Youtube. Using the Keyword Research module, I can quickly see how many times a phrase is searched for on Google, the Google CPC, or how many products on Amazon currently have that keyword. Once they have that data, they can then start filling smaller, untapped niches before anyone else does.

If you're familiar with the term "longtail keywords" in regards to niche websites, then you'll understand that the same principles apply when it comes to Merch by Amazon.
Longtail keywords are used to target niche demographics rather than mass audiences. I used this module to search the term "merry", and found a term that is only search 90 times/month on Google, and Amazon only has a 144 products with this phrase. "Merry Resistmas" Of those 144 products currently on Amazon, 100 of them are t-shirts. Personally I wouldn't tackle a phrase with that much competition, but that's the process I use to narrow down my research results.
So, I'd either continue looking through the list of results to find something with less competition or throw in another seed longtail keyword.
Keyword Analytics
The name of this module is sort of confusing to me. At first I was thinking it would be similar to Pretty Merch, but it's not that kind of analytics at all. However, it's still an awesome addition to the Merch Titans arsenal.
Essentially, it's a built-in thesaurus that loads a list of synonyms and similar phrases for a keyword you type in.
Everyone searches for products a little differently. Some people use generic phrases like "Funny Christmas tshirts", and others will search by quote. Others will search using different variations of a keyword. Heck, I do it too! Sometimes the best products are the ones not easily found on the first page of Amazon.
(By the way, if you aren't already using keyword variations in your listings – you should be. You are absolutely leaving money on the table if you use the same keyword over and over in both bullet points.)
Keyword variations are a GREAT way to make your design show up for many search results. Rather than using the word "merry" over and over in your listing, you could use this module to input the seed keyword "merry" and get others variations such as "cheery", "jolly", or "joyful" to use instead.

Product & Brand Search
Here's what the Product Search looks like in Merch Titans: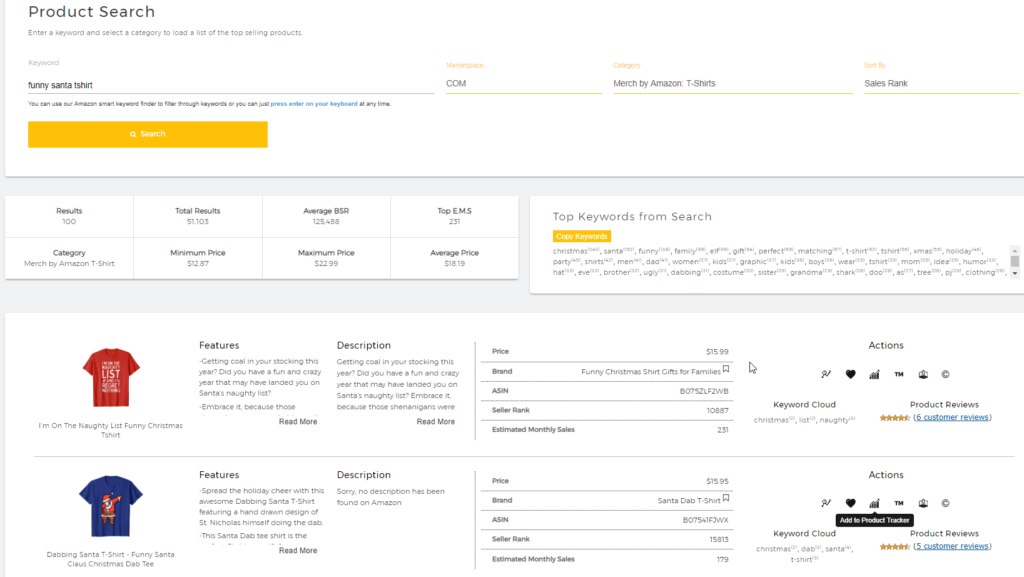 It offers everything you're probably already familiar with – and lays it out in an easy-to-use interface for you. Total search results, Average BSR, estimated monthly sales.
I really like the keyword cloud addition. At a very quick glance, I can see what keywords other Merch sellers are using. Using the same longtail keyword and keyword variation principles – I can very quickly decide if I want to target the larger audience or the more niche audience, and which keywords I want to include in my listing.

Trademark Alerts
This is another incredibly useful function. Automatically check your designs for trademarks! Just enter in any keywords or phrases that you want to monitor, and Merch Titans will automatically send you a notification if if becomes trademarked in the future.

Speaking of notifications, there's a really neat notification system in place which is used for many different reasons. It can show notifications for products you track, trademarks, replies and responses from their forum, staff updates or message.
Merch Titans Automation
If you're still on fence about whether or not Merch Titans is for you – Merch Titans Automation will probably be the deciding factor.
Merch Titans Automation is a new product only available to Merch Titans members that runs locally on your Windows or Mac computer.
It is a complete Print on Demand Upload Automation software that can take your designs and simultaneously upload them to RedBubble, Printful (Etsy, Shopify, Amazon), Spreadshirt, TeePublic, and Zazzle (with more POD platforms being added) on complete auto-pilot. All the data comes from a CSV spreadsheet.
Think about that for a second…
All you have to do is format a .CSV file – with designs you already have -and instantly your products will be live on all of the top Print of Demand marketplaces! That is going to be an absolute gamerchanger and will save you so many hours or uploading the exact same designs manually to multiple sites.
Merch Titans Automation is that it will be available for everyone, but our members will get first priority (and a locked in discount) I definitely recommend joining the Merch Titans Automation Facebook group.
Upcoming Modules
Merch Titans is also working on a "Listing Generator" module inside Merch Titans that will help you build "listings" optimized for the automation software super fast with the top information/keywords/tags from multiple marketplaces (Amazon, Etsy, RedBubble).
How Much Does Merch Titans Cost?
You can try out the entire suite of tools for free!
If you decide to upgrade in the future, plans start as low as $9.99/month (or as low as $6.99/mo with annual billing) For everything that it offers, it's very reasonably priced when compared to other
Affiliate Program
Like I said earlier, being first to market is always great. However, sometimes the market is ready to make a change.
If you have a Merch by Amazon blog, Facebook group, or Youtube channel and are looking for a new tool to check out, I highly recommend trying out Merch Titans. If you like it enough to recommend to others, they do have an affiliate program in place.
Let others know what you think! Who knows, you
Wrapping Up
All in all, I think Merch Titans is a great product and is definitely worth the inexpensive pricetag. I highly recommend that you test it out free for 3 days to see for yourself.
It's actively being developed, has a great team backing it (they also run a great Facebook Group which you should join), and they are working on some incredible time-saving features in their very near future.
If you've previously used Merch Informer and are considering making the switch, I don't think you'd be disappointed. And if you are new to Merch and are looking for a user-friendly way to come up with t-shirt designs that will sell well, then I highly recommend checking Merch Titans out.
As always, happy merching!