Over the past 23 months on Merch Pursuits, there's always been one thing that constantly amazes me: the amount of opportunity that presents itself in world of Print on Demand.
We've seen a lot of extremely useful Merch Resources pop up, such as Merch Informer, Pretty Merch, or Merch Buddy. I even capitalized on this market by creating a website called Merch Ready Designs, which is a website that allows you to purchase pre-made Merch by Amazon designs that are "ready to upload".
The part I never really got into was WHY I created MRD in the first place. Essentially, I had become so efficient at outsourcing that I ended up with hundreds of stockpiled designs, but not enough slots in my Merch account to upload them all. I guess you could say MRD was created as a way to sell my unused designs.
"Why didn't you just upload the designs after you tiered up?"
At the time, Amazon had stopped allowing it's members to tier up. I was stuck with hundreds of seasonal designs and had no idea what to do with them. Do I save them for next year? Sure, I absolutely could. But, I just spent a ton of money getting these designs made, and they were really high quality, pre-researched designs..
To cut this story short, I decided to create a members-only marketplace to sell my designs. I got really, really good at it, and in fact – I made over $26,000 selling Merch by Amazon t-shirt designs in just 7 months!
Why Am I Telling You This?
At the time, I had no idea how long my account would be frozen for. So, I scoured the internet for a marketplace to sell my designs, but ultimately came up short. There simply wasn't a place to sell my designs, so I created one.
While MerchReadyDesigns was a great place for ME to sell my designs, I'm just one person. I have to believe there are many of you out there in the same predicament I was. MerchReadyDesigns wasn't a true "marketplace" in the sense that anyone could register, list their t-shirt designs or services, and or purchase designs from other members. Luckily, I had built up enough trust from readers that MRD worked out really well for me, and is still working out really well for the current owner.
The real reason I'm writing this post is because I stumbled across a TRUE print on demand marketplace called PODForest. It allows you to register as a buyer or a seller, sell your designs and services, and make some additional side income in this POD space.
I've actually started making some decent money on there, so I decided to write this post and share my experience with you.
Disclaimer: I was compensated for this review, although I was happily a paying member beforehand.
What is PODForest?
PODForest is an online marketplace of print on demand designs made by other freelancers. Simply register for an account, upload your designs, and wait for someone to purchase them. If you're familiar with Upwork, it works in a similar fashion, where you can view freelancer profiles to see what types of designs that seller creates, request custom designs, read member reviews, & see how orders were delivered or cancelled.
The biggest difference?
It's geared towards print on demand buyers and sellers. On sites like Fiverr or Upwork, I find myself looking through hundreds of profiles that aren't necessarily related to the task I'm trying to accomplish. As a Merch seller, I'm only looking for t-shirt designers – not video editors or logo designers. For way too long, we've resorted to using "general purpose marketplaces" such as those to find designers, but that was only because a true marketplace didn't exist.
Until now, that is.
Here's some additional reasons to use PODForest: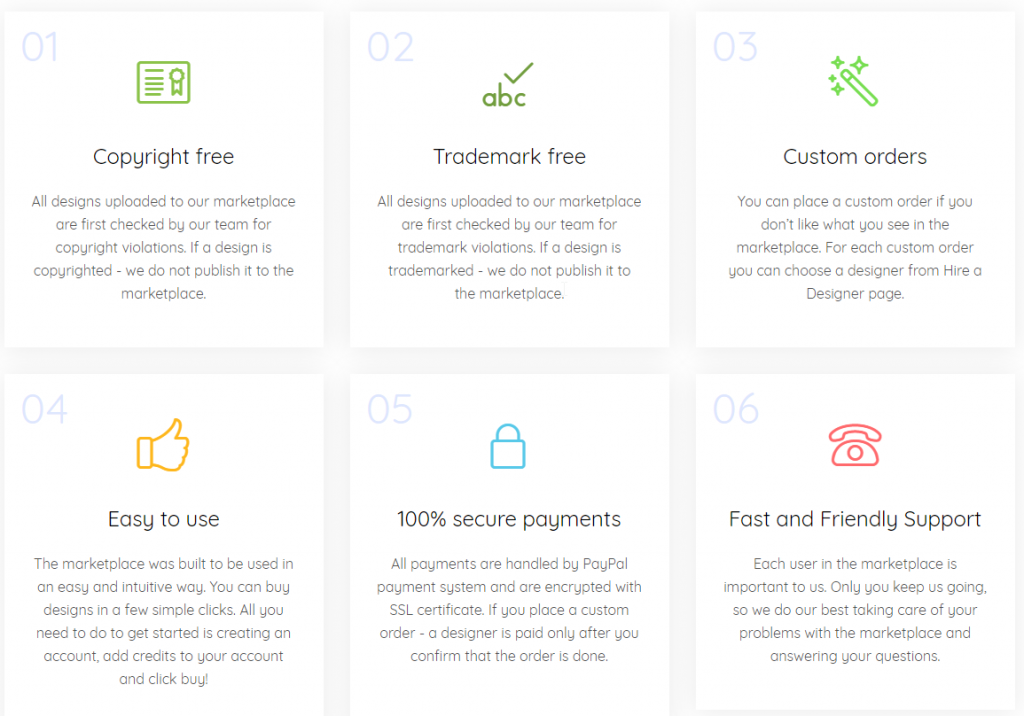 Here's a sneak peak at the marketplace:
(Note: you'll need to create a free account to see designs)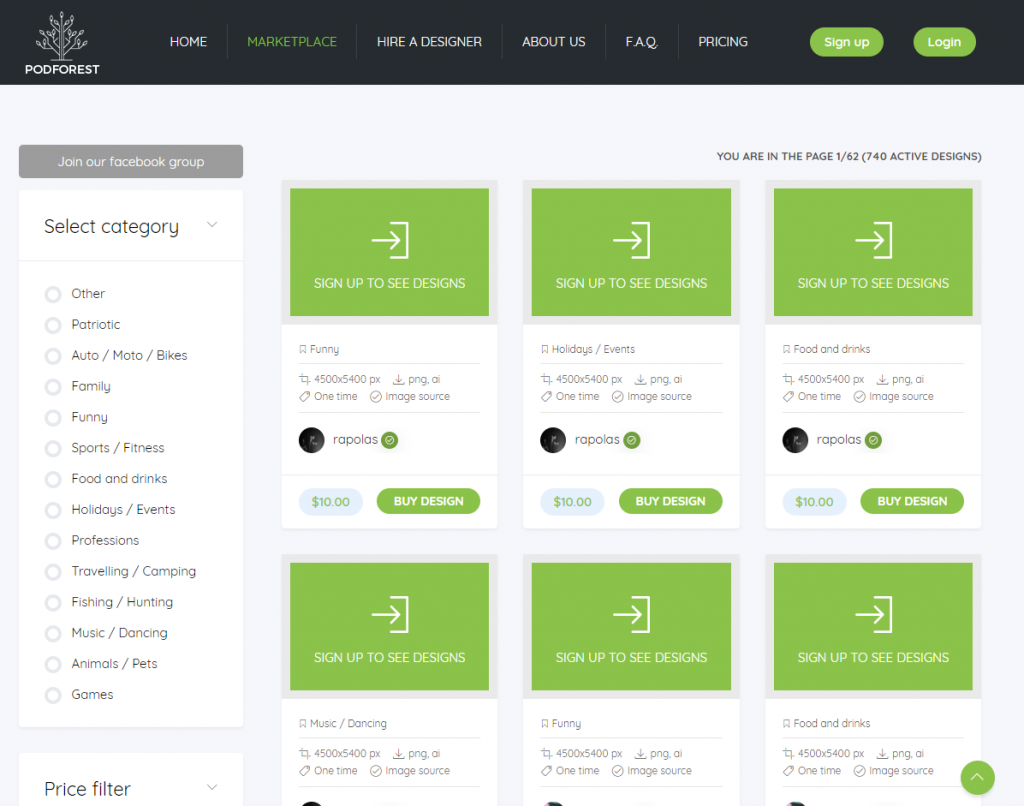 As you can see, the site is absolutely beautiful, super easy to navigate, and has very flexible payment options (including a free plan!).
Sounds awesome! How Do I Sign Up?
Registration is quick and easy, and takes less than 2 minutes. Just create an account here, verify your email address, and you are good to go!
The pricing plans can be viewed here, but I've also included a screenshot below. If you decide to sign up for the Lifetime Premium plan, use discount code MERCHPURSUITS like my screenshot for 75% off.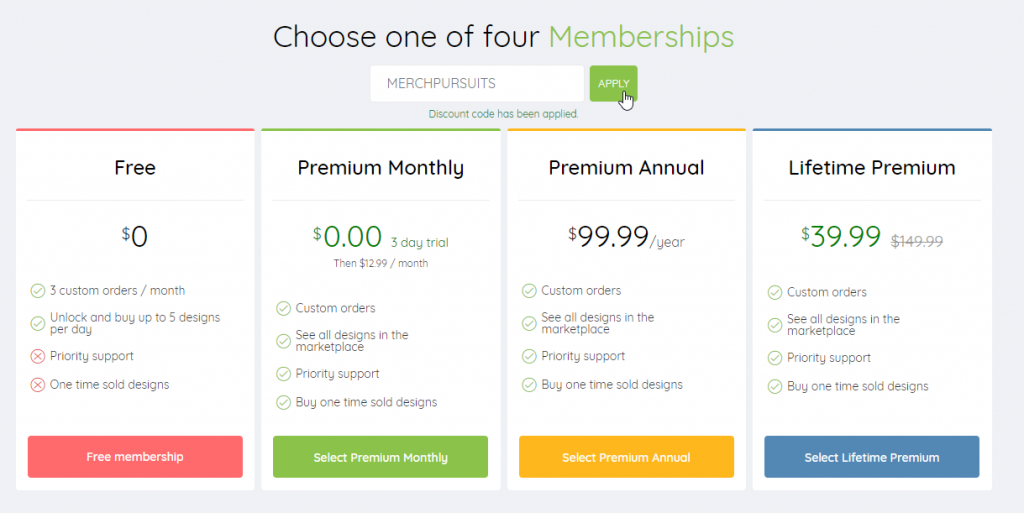 Disclaimer: I don't receive any affiliate commissions from recommending PODForest. I reached out the the developers to see if they'd be willing to offer my readers a discount – and they were very happy to oblige.
I also wanted to point out that if you decide to use the free membership, you won't have access to the entire database of live designs. Instead, PODForest has implemented a really neat "Unlock daily design" feature. Everyday, you can log into your free account and unlock 5 random designs to purchase.
This helps establish credibility in two ways:
The site owner can't manipulate potential registrants by only showing high-quality designs.
As buyers, we get to filter by price, seller, verified seller, and by keyword, and then choose which designs we want to unlock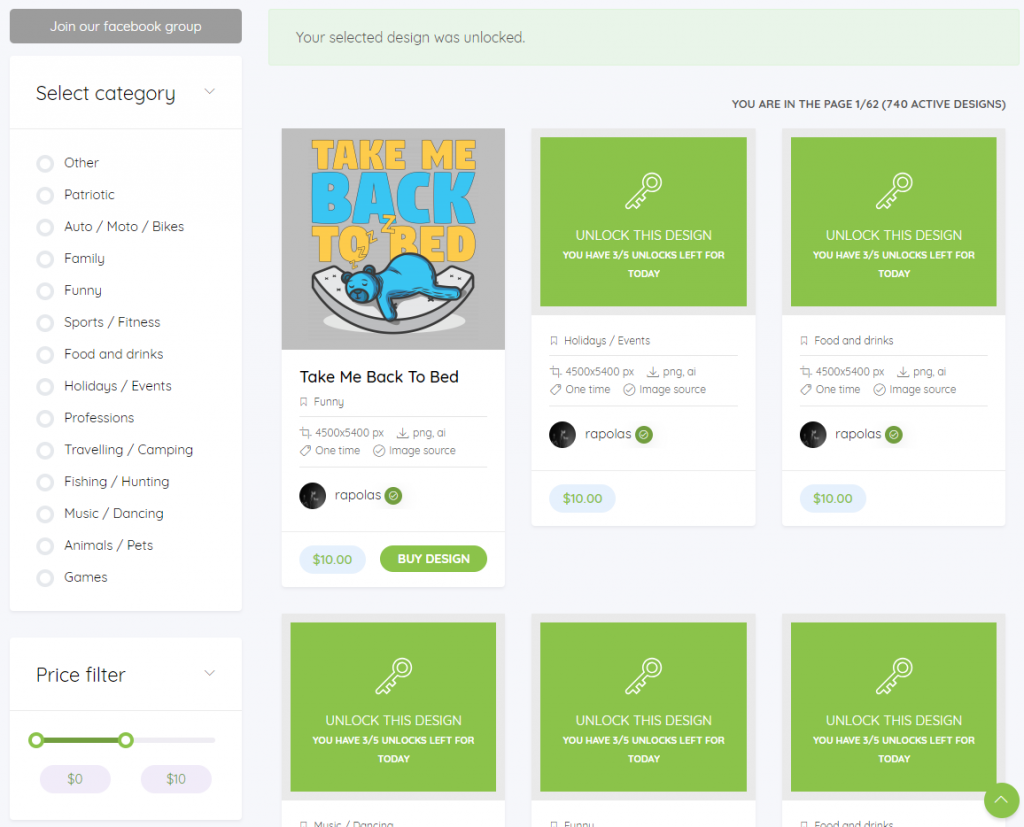 As a free member, having the ability to unlock designs is really fun. This part was really well thought out by the developers.
So, a quick recap regarding pricing:
No one gets to see marketplace designs until they become a member. (This prevents copycats from stealing design ideas).
Free members have free reign to choose any 5 designs per day to view.
Premium members get to view everything.
However, I would just recommend joining as a Lifetime Member, so you can see all designs. However, if you aren't sure if you want to commit to a lifetime membership just yet, I recommend joining the Premium Monthly plan since it's free for 3 days and lets you see all the designs before deciding.
As of 6/13/18, there are over 740 live designs uploaded to PODForest.
Buyer & Seller Accounts
Just like most marketplaces, you can register either as a buyer (someone who wants to purchase designs from other freelancers) or as a seller (someone who wants to sell their designs to other buyers).
If you want to become both a buyer and a seller, you will need to register using two different email addresses.
Seller Accounts
Free to register
Ability to upload & sell designs
Ability to offer custom design services
Sellers cannot see other seller's designs
Buyer Accounts
Flexible price plans
Ability to view all designs
Upgrade anytime within your profile
Lifetime 75% discount available (use MERCHPURSUITS)
Uploading Designs
After you complete the registration, you are welcome to edit your profile but this part isn't necessary. You can include a photo of yourself, your business, and even include a short description about yourself or your services. I've found that by putting a name to a face helps establish credibility, so I would recommend spending a few minutes filling our profile.
The upload process is incredibly fast and easy. You simply upload the file from your computer, choose the title for your listing, choose a category, price, and wait for the design to be approved!
On average, I'm able to upload a design to PODforest in 18 seconds flat. Sellers will receive a 40% commission on the sale of their designs on the PODForest marketplace.
Created by Merch Sellers, For Merch Sellers
Remember when I said PODForest was created by Merch sellers, for Merch sellers? Here's what I meant by that:
You must upload a transparent PNG file in 4500x5400px dimensions.
You can choose to have your design displayed on a black or white mockup.
All designs go through a verification process that checks for copyright and trademark.
Designs with spelling errors will not be approved.
If a design fails the verification, it shows up in it's own section that states "Needs Correction"
Ability to "report" designs.
Intuitive backend, allowing you to view detailed stats about your account.
Here's a screenshot of my Seller [backend] Dashboard: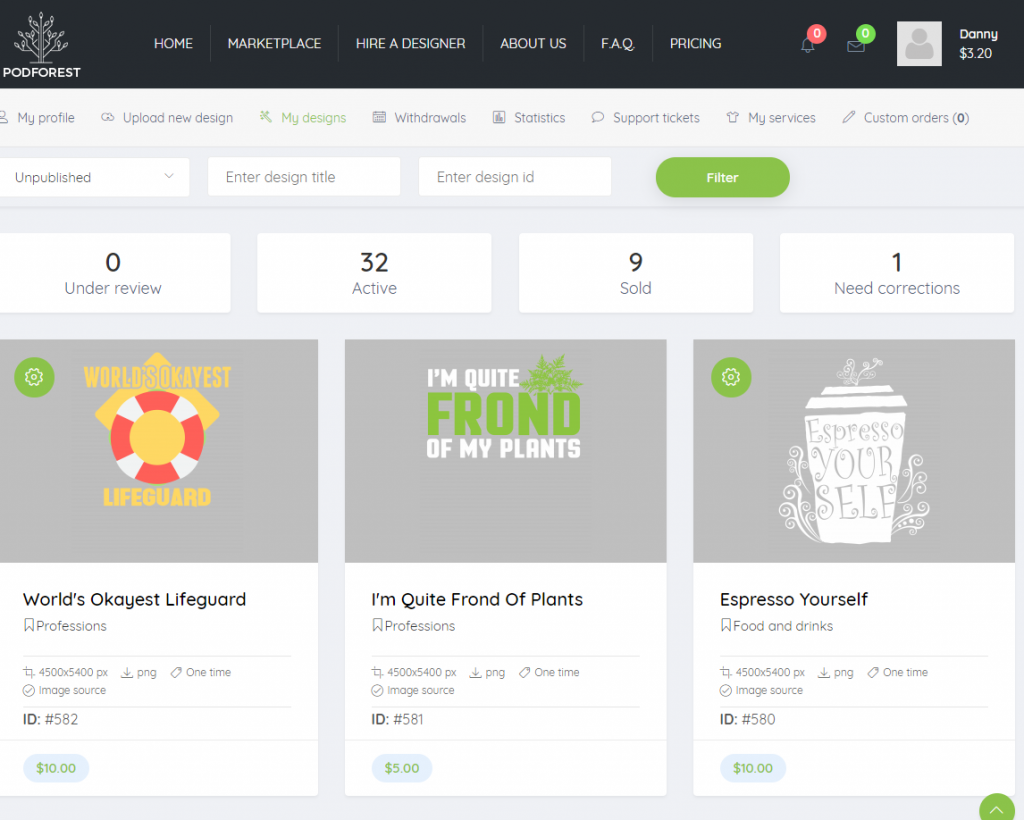 Once Sold or Multiple Sold Designs
You may have noticed on PODForest.com that designs can be sold "one-time only" or "multiple times". This means exactly what it sounds like.
Personally, I would never purchase a 'multiple sold design' and upload it to Merch by Amazon. My account is too valuable to risk that. Multiple sold designs means the designs are generally a lot cheaper, but they can be bought by many people. I suppose this might be helpful to some people if they upload to other POD sites like Teefury or Redbubble and aren't really worried if they are listed elsewhere.
Luckily, 99% of the designs I've seen on PODforest can only be bought once.
As a seller, you specify whether a design you upload can be sold once or multiple times. As a buyer – each design is clearly labeled as a "one time" or "multiple sold" design, so there really shouldn't be any confusion there.
Generating Passive Income with PODForest
So, after seeing all of this, why should you join?
If you join as a Buyer, it makes finding competent designers a breeze. No more searching through hundreds of pages of designers on sites like Upwork or Fiverr. Whether you are looking for "merch ready" designs, or simply looking for a new t-shirt designer, this is great place to look to save time.
If you are a designer and looking to list your graphic design services, sign up to list your services for free. There's less competition here than other general marketplaces, and your audience is laser-focused. They know exactly what they want, and you know exactly the dimensions that they need. Even if you are registered on other marketplaces, there's no reason not to create a free account to try and earn some additional income.
I've uploaded just 32 designs to PODForest over the last couple weeks, and look how much I've made already. Not bad for less than 30 minutes of uploading!

Due Diligence
As always, you should do your due diligence before purchasing t-shirt designs – from any service. Even though PODForest does a great job making sure all live designs haven't broken any copyright or trademarks, I'm sure as the site grows designs will slip through the cracks. (Even huge sites like Amazon experience this, so I wouldn't use that a reason NOT to join Podforest.)
Like I said, members can quickly report any design they deem unfit, which unpublishes the design, notifies both the site admins and the seller of the design, and requests that changes should be made to that particular design to the offending seller.
The best advice I have for you is before you make a purchase is this:  Check the trademark/copyright yourself, and search Amazon to make the design isn't already live.
Another thing I wanted to point out – while this site is geared towards Merch by Amazon, designs can be purchased and used for any print on demand website. Of the 740 live designs on PODforest, I haven't really came across any designs that I wouldn't upload to Amazon. But, it's important to be aware of that fact that some designs or quotes may not be suitable for Amazon, even if they don't break any copyright or trademarks.
In Conclusion
PODforest is the marketplace we've been needing for years. Whether you are a buyer or a seller, everything is encompassed into one large, well-designed marketplace. It's been developed with passion by POD sellers, so you know they have our best interests at heart. Their support is also fantastic. I've contacted them several times and they are always quick to respond. I've even made website suggestions and watched as they've implemented my suggestions.
Over the years, I've seen countless Facebook posts asking "Where did you find your designers?" or "Where do you purchase your designs from?" and now,
This lifetime discount code won't last forever, so join before the 75% coupon code expires. (Use MERCHPURSUITS upon checkout)
Thanks for reading, and looking forward to seeing you in there!