Have you ever wished for more data in your Merch dashboards? I know I have.
I've always wanted the ability to see things like what color t-shirts sold, what some of my top-selling shirts are, or whether  my shirts were sold to a man, woman, or child. Unfortunately, there's no easy way to find these things with the built-in analytics.
If you've been craving more metrics, then you're about to be very glad you read this post.
I've had the opportunity to beta test PrettyMerch recently, (a Chrome extension that displays all kinds of useful metrics in your Merch dashboard), and now that's it's officially released – I'm here to share it with you.
Take a look!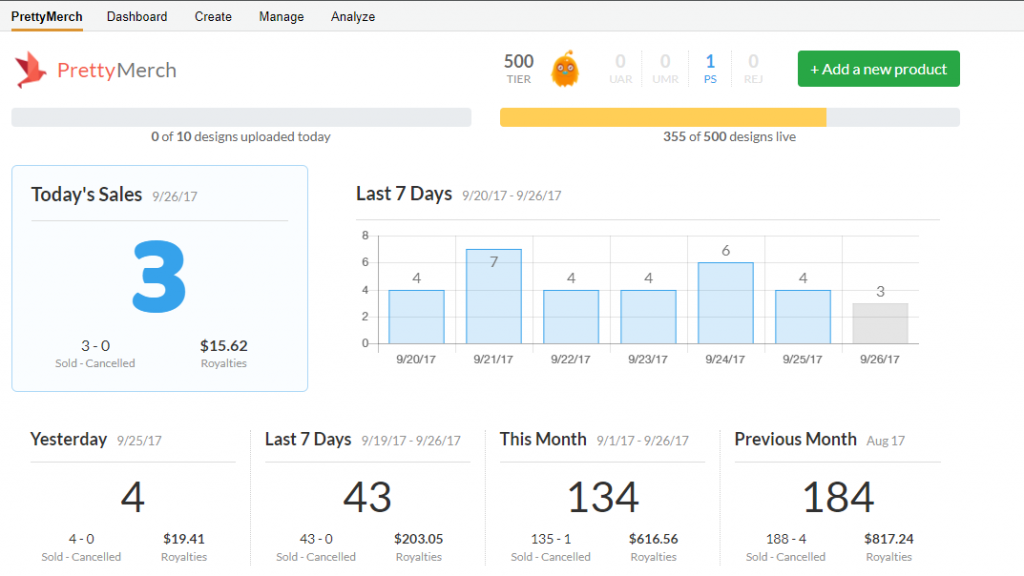 Pretty cool, huh? (ignore my sales. Those are embarrassing..)
Before I go into too much detail, here's some of the things PrettyMerch displays:
Total designs available/uploaded for the day
Tier level / total designs live for your tier
Many fun notifications
Today's sales breakdown
7 day graph
Top units/royalties sold within the last 30 days
…and many other cool surprises.
PrettyMerch Dashboard
After installing the extension, the first thing you'll notice is a "Pretty Merch" tab next to your Dashboard.
Here's what that looks like:

Once you click into it, you'll be able to see your own PrettyMerch dashboard.
As you can see, it's clean, things are organized in an appealing way, and overall – it feels like it's part of Merch by Amazon. After installing, I rarely go into my Analyze tab anymore.
It formats all of your sales data in realtime, too!
Real-Time Updates
One of the most useful features of PrettyMerch is the fact that the dashboard updates in real time. You see that big "Today's Sales" widget? Stare at it long enough and you'll see it refresh every so often.
Because it updates in real-time, you no longer need to refresh your browser every few minutes to see if anything new has sold. For people (like me) who work at a computer all day long – this is a very welcoming addition. I feel like I check my sales all the time.
As long as you stay logged into your Merch by Amazon account, sales will automatically update under your PrettyMerch tab.
Notifications
There's also a lot of really cool notifications built-in.
You'll be alerted whenever you make a new sale. You'll also receive a notification with how many sales you've made since last login.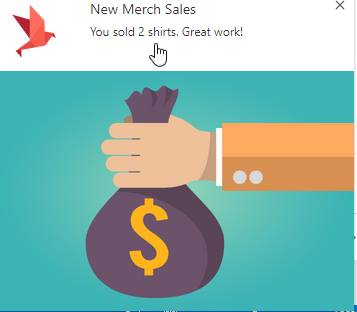 Whenever Merch signs you out, PrettyMerch sends you a notification letting you know, with a link letting you quickly log back in.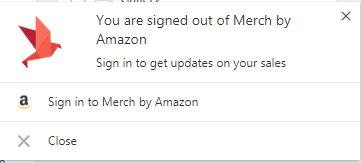 Daily Allotment Widget
Starting from the top, you'll see a progress bar with how many designs you can upload for the day. The progress bar fills up as you begin uploading for the day.

The next widget directly next to that shows your current tier.
I've been told the little monster changes depending on your tier…
I'm curious to see some of the other monsters. After you install, please come back to share screenshots of what yours looks like!
Hovering over each greyed out area quickly lets you see the status of your designs:
Today's Sales
This is by far one of my favorite additions of the entire extension. In fact, I had this extension installed for hours before I even noticed it.
Click on your "Today's Sales" number, and a surprise window pops up.
Not only does it display the name of the t-shirts you sold today, the quantity, and the profits made from that design – but it also shows you what color shirt sold, and whether it sold to a man, woman, or child.


Other Graphs & Charts
If you continue scrolling, you'll see all kinds of other useful metrics. Things like how many shirts you sold yesterday, the last 7 days, this month, and how this month compares with last month.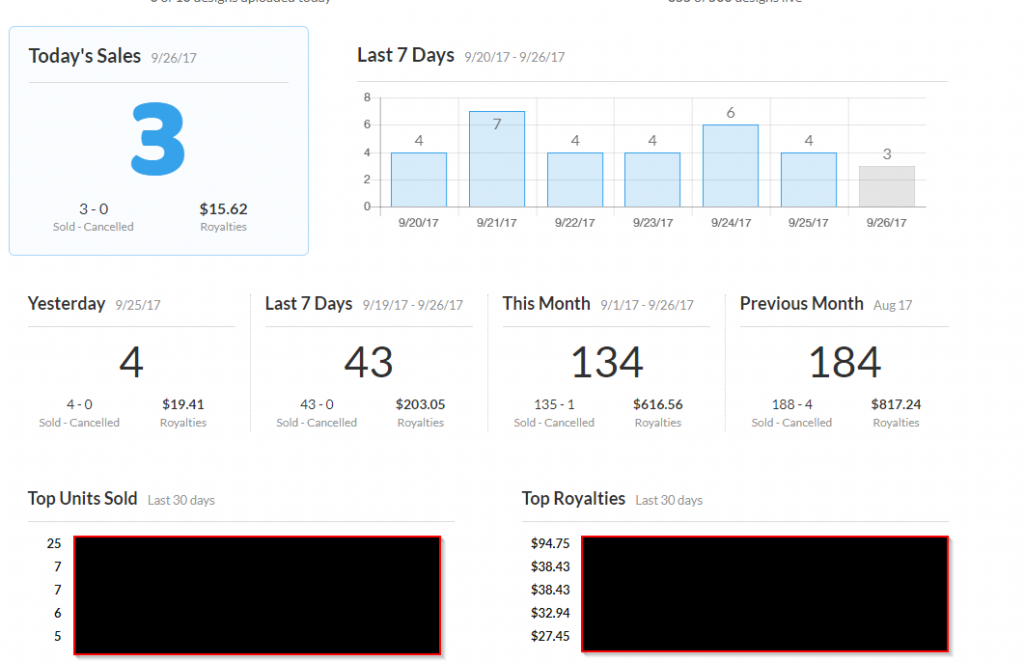 Security
PrettyMerch does not reference any external servers or databases. In fact, it doesn't even do any kind of analytics tracking. It literally just runs as a local application on your own computer, and formats your sales data only if you are logged into your account.
Here's a direct quote from the developer regarding the extension:
It's not in my best interest to secretly gather and use people's data. There are strict, international laws governing how data can be collected, stored, used and updated. As an entrepreneur I would not like to break those laws since the penalties are severe.

Just to help everyone understand in a simple way how secure this is, here are 3 important facts:

1) The PrettyMerch extension is only enabled after a user has logged in. You can see the icon light up after you have logged in. On the login page it is gray, showing that the extension is inactive. So there is not way the extension can collect your login credentials.

2) PrettyMerch stores some data locally on your computer in memory allocated by Chrome. This makes the extension faster since it doesn't have to load the data from scratch every time. This also allows PrettyMerch to synchronize your extension with other computers your are using Chrome on, making the experience seamless.

3) Three is A SECRET which most extension developers don't tell. The code of the all the extensions you're using in Chrome, is saved locally on your computer. So anyone with at least beginner level programming skills can open the source code and see how it woks. That means that if the extension is doing anything sketchy, then it will soon be discovered and called out.

I hope this helps you feel just a touch safer. Of course I'm here if you have any more questions, I'd be happy to help.

I also upvoted your comment because I want everyone to see it. Security comes first.
Pro Version
UPDATE 5/20/18: Prettymerch PRO is now available! Click here to get your copy.
PrettyMerch is free. I'm not receiving a dime in affiliate commissions by recommending it. I've said it before, but I don't recommend software I don't personally use.
You can download PrettyMerch for free here!
However, I have been told there may be a Pro version on the horizon, so keep an eye out for that! (If you sign up to my email list, I'll send you an email if/when it launches.)
Personally, I'd like to see which shirts are pending removal. I'd also like for the ability to adjust the timer on popup notifications (for instance, when logged out – the popup notification stays up forever). It would also be useful to see what colors sold over a period of time, like what you see when clicking on Today's Sales. I think that would really help me tailor the types of designs I create.
For a free extension though, I really have nothing to complain about. I absolutely love PrettyMerch. The above are simply just recommendations I'd happily pay for in a Pro version.
Last Thing – Avoid Merch Overview
Do not download Merch Overview.
If you're in my Facebook group, we've already had some discussion about this, but Merch Overview is very much a copycat app of PrettyMerch. There's just a lot of shady activity surrounding Merch Overview, and I hope none of you reading this post support it. If you've already installed Merch Overview, uninstall it.
Basically, the developer of PrettyMerch was excited to show off his extension, and posted a few screenshots to Reddit. A  few weeks later – Merch Overview mysteriously popped up. The MO dev is sharing the extension via fake Facebook profiles (3 different ones that I know of), and by looking at some of his software review, those might be fake too. The layout between the two is almost identical. There's no way that could've happened unless he too, saw the Reddit post.
In addition, I have no idea what the MO dev is doing with your sales data.
Just don't download it guys.
Share this article!
Thanks for checking out my PrettyMerch review! I hope you're as excited about it as I am. This tool was opened up to the public just a few hours ago, so you, my awesome readers, are the very first people to use it. 🙂
Get some t-shirt idea inspiration below!