At one point or another along your Merch by Amazon journey, you've probably thought to yourself:
"What if a t-shirt phrase I use gets trademarked later on?"
There's a good chance this could and will happen to you. It's happened to me. Usually, out of the clear blue you will receive that terrifying email from Amazon stating that your designs has been taken down. That means you are one step closer to losing your Merch account permanently. Thankfully, after several years selling on Merch it's only happened twice to me, but if I had been monitoring my phrases a little better, this probably wouldn't have happened at all.
Monitoring Your Merch Phrases
You could take the "upload and pray that doesn't happen" approach, but that's a very passive way to manage your Merch account. You should be treating your Merch account as a business, which means you should be actively checking each and every phrase for trademarks.
Picture this scenario. You upload a shirt with a great phrase. It sells well, so you create several other designs in that niche and follow my Improving Your Merch Bullet Points guide and use that quote in these new designs. What happens if that phrase gets trademarked, and Amazon decides to remove all of you designs with that quote all at once?
Theoretically, you could lose your entire account just like that.
So, what do you do? Do you manually type phrases into USPTO.gov every few weeks? I hope not! That's such a time sink, and if you're like me with over 1,000 designs uploaded, that would be a very cumbersome process.
I was recently asked to try out a new tool called Trademarked, and I've gotta say, it's really simplified the process of checking trademarks for me. So, I'm reviewing it for you guys today.
What is Trademarked?
Trademarked is a simple, easy-to-use Windows program that helps you to stay safe in the Merch by Amazon game by helping you to easily find trademarks for your designs.
How Many Trademarks can I search for in Trademarked?
You can search for as many as you want! You can for 1, or you can search up to 50,000! Trademarked is designed to handle a huge amount of searches, so it works for every Merch seller, whether you are just starting out if you are a long time Merch seller.
Where does the trademark data come from? Is it up to date?
Trademarked has its own database which consists of all the trademarks in the clothing class (IC 025) from the USPTO website. The database gets updated every few days. (Also, you can always check the last time the database was updated by clicking on the "Info" button in the program).
Will my searches be saved (so I don't have to enter them in again?)
Yes. Trademarked lets you create your own database of designs and quotes. This makes searching/checking for trademarks MUCH more efficient for you.
And don't worry, the software runs locally, which means the database of phrases are stored on your computer, not the cloud. Trademarked never sees, stores, or access any of the data).
Setting Up Trademarked (first time use)
Setting up Trademarked is quick and easy. Just complete your purchase on Gumroad (non-affiliate link, by the way), and you will be emailed a code and the program to install on your PC. After running the "Trademarked Setup.exe" application, you will be prompted with a screen asking you to create a Trademarked account.
Here's where you add the confirmation code you received from Gumraoad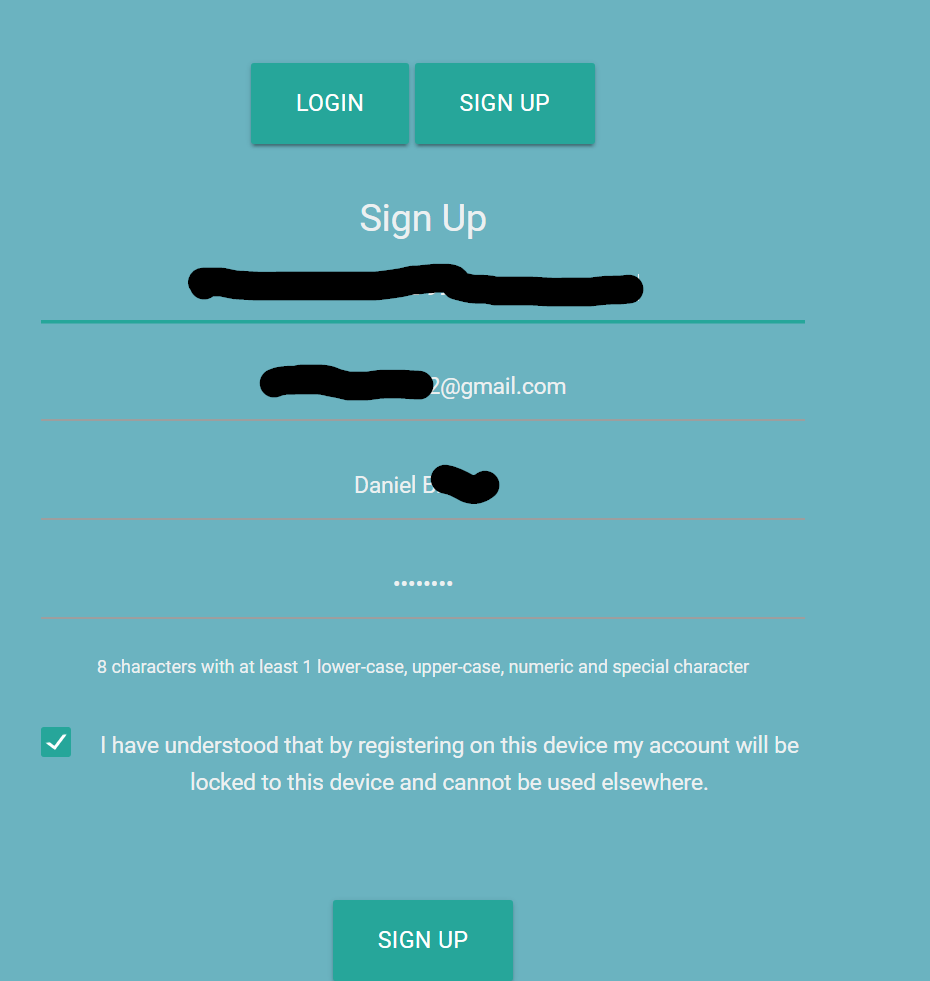 For security purposes, it will send a verification code to your email after registering for your Trademarked account.
After verifying, you are good to go and can get logged in right away.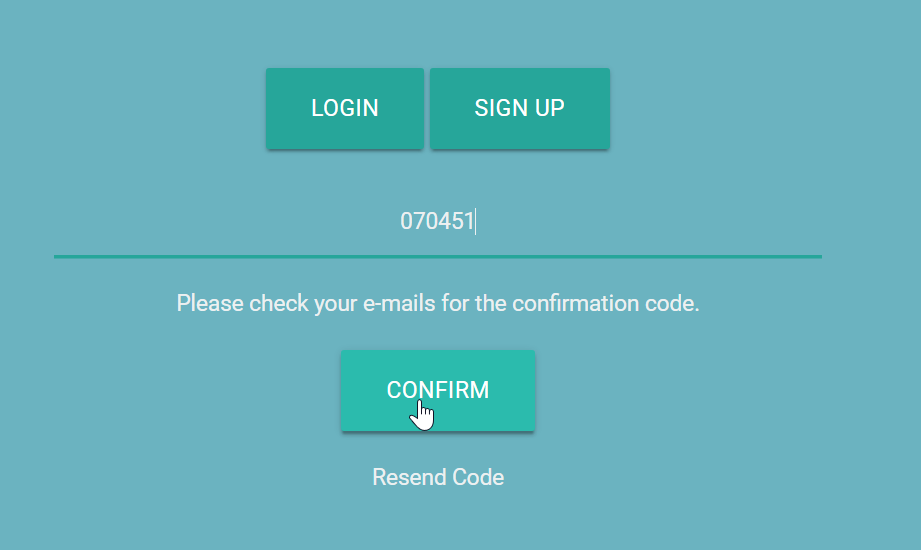 Using Trademarked
Trademarked is a very self-explanatory program. On the left hamburger menu, you can choose to do a single search, or a multi search. By default, when you first log in it shows the multi search.
Add terms to the "Add Your Search" button as shown below, and click SEARCH. As you can see in the image below, I've added 3 quotes to check. Nike, obviously, shows up as trademarked. If you click the Show button, it will show you exactly what trademarks have been filed for that phrase.
There are also some options within Trademarked that you can change. For example, you can tell the program to only show trademarks that are live, dead, or if you want to see both live and dead trademarks, you can do that too.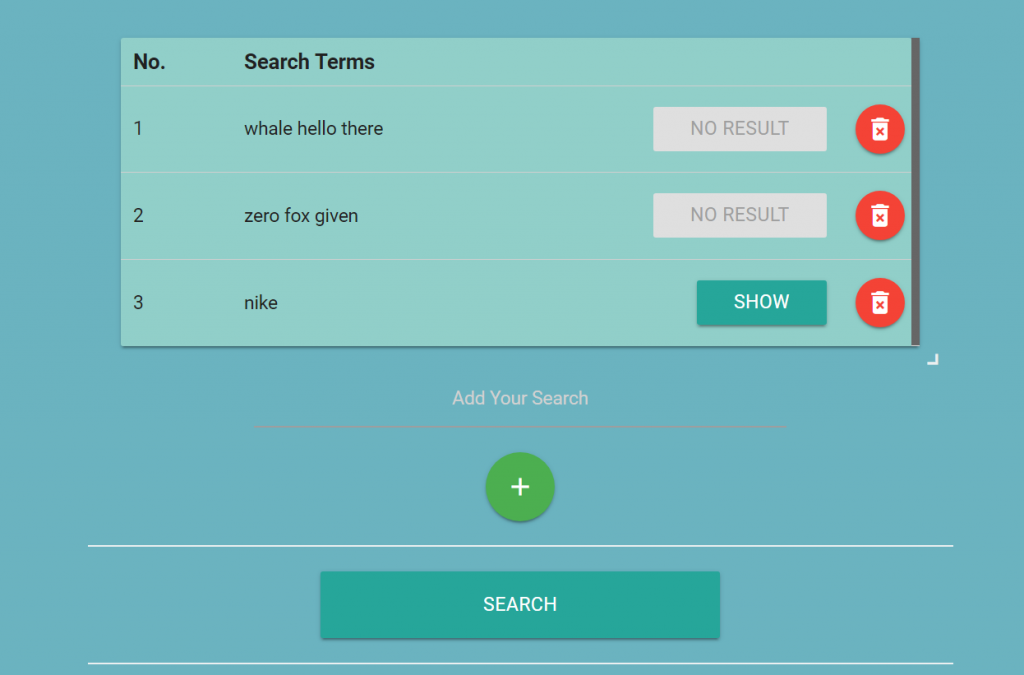 Advantages of Trademarked (over other services)
The first big advantage is that Trademarked runs locally on your Windows computer. You aren't entering your precious best-selling quotes into a web application that may or may not be tracking the BSR of your designs, and potentially using that data to create their own competing designs.
(Many existing services limit the number of phrases you can search for until you upgrade plans. Trademarked allows for 50,000 phrases!)
Second, some of these other trademark search programs are great for checking quotes 1 at a time, but become really cumbersome when you have many quotes to enter. I've never liked searching directly on uspto.gov, either. The website is very dated, and it takes a lot of mouse clicks to get to the correct TESS database. On top of that, you often have to manually enter the phrases in or upload a spreadsheet every time you need to check.
This is where Trademarked really shines. If I close Trademarked, I don't have to worry about re-entering all of my quotes in or losing my progress. The phrases are there waiting for me the next time I need to check TM's.
Incorporating Trademarked into My Workflow
As with all business ventures, it's best to stay organized. I organize my folders, speed up my Merch workflow, and simplify my t-shirt upload process. The last thing I've struggled with is consistently checking for trademarks. It's boring, time consuming, and generally just not a fun experience. And to think, I used to set aside a time window just for checking for trademarks.
Now, I simply search the quote on Trademarked (which automatically adds it to my database) and upload the design to Amazon. I no longer have to search USPTO.gov directly. If I ever need to check for trademarks in the future, I just launch Trademarked and click "Search".
It really is that easy!
Finishing Up
Trademarked is a pretty awesome program for an Windows user. Whether you are just starting out, or have thousands of designs uploaded, Trademarked is by far the easiest trademark checking software for Merch by Amazon that I've came across to date.
It's also very affordable. You can get access for an entire year for only $50, but if you want to try it out for a month – it's only $10. Click here to try out Trademarked for yourself and see just how easy it is to use.
Don't forget to check out my resources page for an entire list of programs I use with Merch by Amazon.
As always, happy merching!
Danny