Finding vectors and logos for Merch by Amazon is hard. I often find myself trudging through site after site looking for the "perfect" vector to use on my Merch shirts.
Once I finally find the image I like, I go to download it…and end up getting redirected to a paid resource like Shutterstock. Annoyed, I head back to Google to start the research process again. I'll probably find a couple more that would work, but then I have to go through the trouble of figuring out if these vectors can be used commercially.
Most of you research vectors and artwork the same way. We're all looking for the cheapest way to create t-shirts. Our thought process is "If I can create a design using free fonts and free vectors and upload that to Amazon, then any of my sales will be pure profit!
Well, sort of.
The thing you have to remember is that Merch by Amazon is a numbers game; the more shirts you have live, the more sales you will have. The FASTER you can get each design created…the more designs you can upload each day.
That's why I'm so happy to introduce Vexels to all of you.
In the time it took to find that one vector, I could've created 5 shirts using the artwork available on Vexels! Even better, these all can be used commercially.
Disclaimer: Vexels gave me a free account and compensated me for my time testing & writing this review. I was told to be 100% honest, whether positive or negative, and have full creative freedom to write my own thoughts using the product.
What is Vexels?
Vexels is your one-stop solution for finding Merch-ready designs and graphics. With Vexels, you no longer need to search Google manually for each and every graphic you want to use. You can download everything from backgrounds to icons, text phrases, "Merch-ready designs", and even t-shirt mockups!
Take a look:
As you can see, all of their designs look amazing. With over 43,000 graphics in their database, you can find just about anything for any type of design. Content is updated daily, so you will always have new designs to look through. Most of them are editable so you can quickly and easily customize them to your liking.
What can Vexels designs be used for?
For Merchers, VEXELS can be used to source great Merch-ready Designs you can sell t-shirts with on Merch by Amazon and other PODs.
If subscribed, they can be used for creating Merch by Amazon t-shirt designs. But, there is so much more that it can be used for. Here's a few more example:
Adding Vectors To Existing Designs
I've mentioned this several times before, but creating t-shirt variations of best-selling shirts is a great way to increase your monthly earnings. When you think about it, it makes perfect sense. Rather than upload designs in niches you haven't explored, you can create variations of already selling designs. This is great for both you and the customer because it gives them more variety to choose from, and is great for you because it gives you a better chance at someone purchasing either of your designs.
Let's say you have a t-shirt of a bear that is selling pretty well on Amazon. With Vexels, you could quickly download a vector of a tree, slap it on your design, and upload that.
You now have a similar, but still different, variation of your best-selling design.
Creating T-Shirt Variations
If we take that same best-selling bear t-shirt, you could search Vexels for a replacement bear vector and upload that to a new design with the same quote you used before.
It's still a unique design, it just has a fresh new look.
For Designers
If you are a designer, then Vexels would be perfect for you. Vexels offers a "Merch Subscription Plan" specifically for Merch Sellers and Merch Designers. If you prefer to outsource your designs, you can still make use of Vexels. Simply find the artwork you want to use for a particular design, download it, and tell your designer to use this in their design. This ensures that the design isn't trademarked and that it can be used for commercial purposes!
What CAN'T the designs be used for?
You obviously can't resell or redistribute the artwork. You also can't use the artwork to make offensive, unlawful, defamatory, or pornographic material. Which shouldn't be a problem for any of you, because Amazon doesn't allow those types of shirts to sell, either.
Vexels Pricing
To use Vexels designs and graphics, I recommend going with the Merch Subscription Plan
Why?
As a subscriber, here's what a subscription gets you access to:
Merch-ready Designs in PNG to download and upload directly
Commercial & Merch licenses (which gives you Merch rights to every graphic available on the site)
200 free downloads a month
2-7 design requests per month (depends on your Plan; more info on this below)
Can upload their graphics to Merch by Amazon, Redbubble, Printful, and Zazzle
Monthly Merch Strategy Guide by Vexels
Special perks & bundles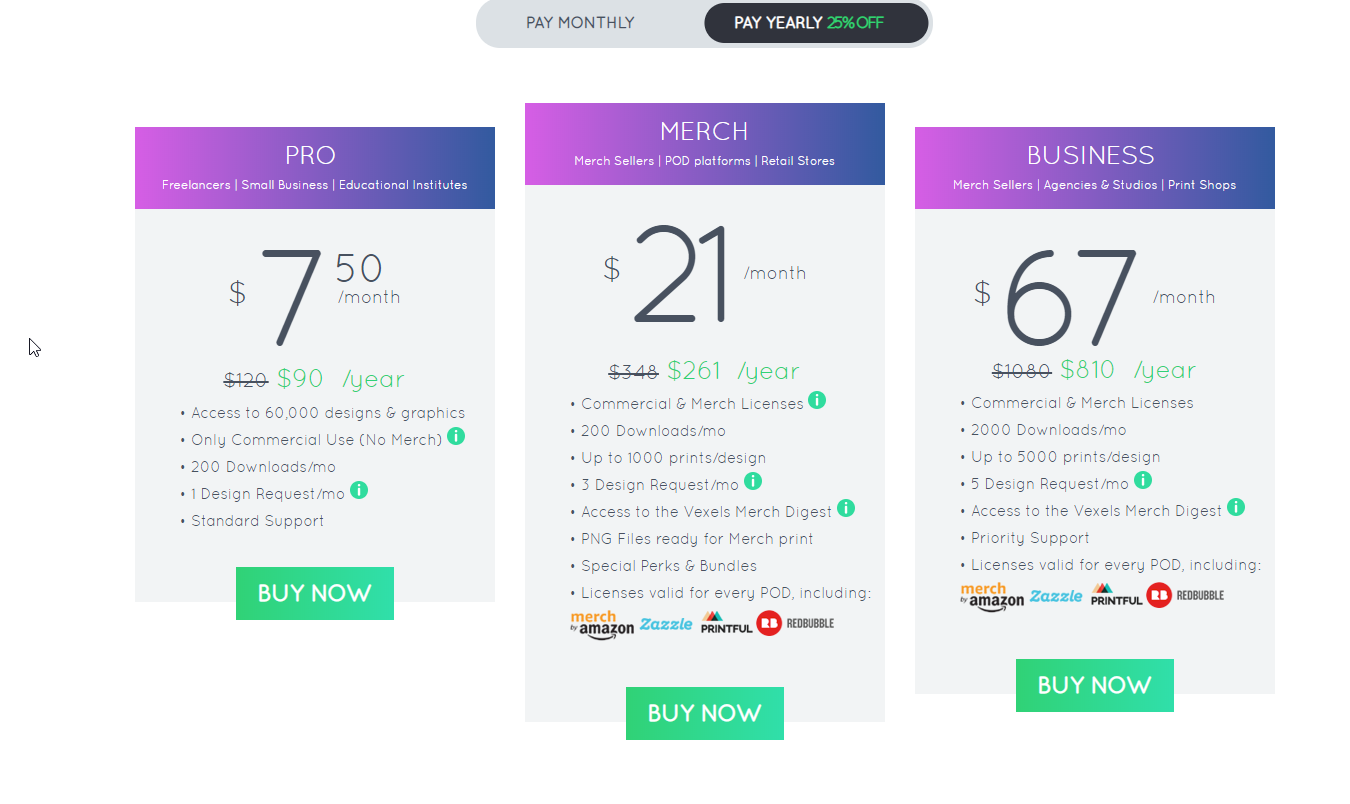 Sounds awesome! How do I sign up?
You can sign up for Vexels.com here.
Once signed up, you'll gain access to the backend of your account. It's by far one of the best-looking backends for a Merch tool I've used. It lets me get exactly where I need to go in just one click. Here's where you can:
Edit your profile & manage your subscription:

View your license certificates:

Or view previous downloads:

There are a few other self-explanatory sections such as Favorites or Billing here as well.
Design Requests
At the bottom of your profile section, you'll see a tab called Design Requests.
As a subscriber, you automatically get access to the Design Requests section. If you've ever done any design outsourcing, you'll be very familiar with this process. You'll give their designers some instructions, paste a few reference links, and let their designers take care of the rest. It's super easy. I typically pay between $3-$10 per design from a designer, so being able to get a few free designs a month AND having access to thousands of graphics ends up saving me quite a bit of money in the long run.
Just in case you were curious, here's more info on the guidelines: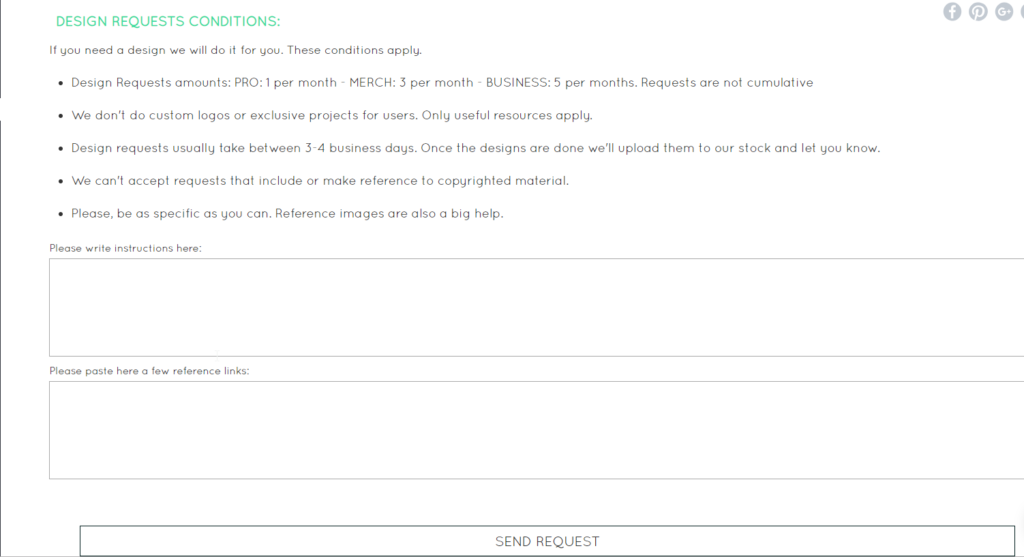 Design Conditions:
PRO Plan: 1 design/month
MERCH Plan: 2 designs/month
BUSINESS Plan: 7 designs/month
Designs typically take 3-4 days to come back, which is pretty standard regardless of where you outsource designs from. Once the designs are done, Vexels will upload the designs to their stock for you to download.
T-Shirt Maker
A while back we said that Vexels were working on a T-shirt Maker that uses their own graphics to create original, unique t-shirts, and now it's here!
Check out their Online T-shirt Maker Here and see it for yourself.
What's great about this tool is that it's completely free for Merch and Business Subscribers, and it allows you to create pretty much any kind of t-shirt you want! You can use VEXELS graphics as well as upload your own design, and given they already have a fantastic collection of graphics made by themselves, you will find no problem creating amazing t-shirt designs in the blink of an eye.
Try out the Online T-shirt Maker Here.
Vexels is also working on integrating an easy-to-use T-shirt Maker for their members to use. The beta testing phase is almost complete. Once it is, it's going to be a game changer.
Soon, you'll be able to find vectors and create t-shirt designs all from within the same website!
Why should you join Vexels?
Like I mentioned before, finding artwork to use with Merch by Amazon can be very difficult. It's time-consuming, and up until now, I have not found a way to simply the process.
Often times, you'll find .PNG's that aren't scalable so you end with pixelated-looking designs. Or, you'll have to carefully remove the background in Photoshop. Additionally, you are never 100% sure if the design can be used for commercial purposes or not. Amazon takes copyright seriously; it's imperative that you are use artwork that doesn't break copyright and that is able to be used commercially.
The Merch plan is only $261 per year which comes out to $21 per month or you can go month to month for $29 per month. When you factor in things like the 3 free design requests a month, the value is insane. At a minimum – 2 custom designs would cost me $10. Being able to get 2 free designs, plus access to thousands of commercial-use images, logo, and merch ready designs is a no-brainer for me. I recommend saving the 25% and getting the annual plan option.
Wrapping Up
With over 40,000 graphics available, you can find something for just about every holiday, niche, sport, or hobby imaginable. The website is designed beautifully, their support is quick and responsive, and the ability to get custom designs made is just the cherry on top.
Without a doubt, Vexels has filled the one remaining gap in my workflow: speeding up the process of finding t-shirt graphics. I've been a Vexels member for the last 6 months, and I can safely say that it's now one of my most-used resources. I've recently stepped back from outsourcing for a while, so now that I'm creating my own designs again, using a service like this has greatly sped things up for me.
With the upcoming addition of the T-Shirt Maker software, creating designs in the future will be a breeze. I'm so excited to test this out and will be sure to update this post once it's live.
Check out Vexels here, and as always, happy merching!