For most people, the basic Photoshop fonts just don't cut it. I mean, there's nothing wrong with them, and some of them are okay – but most of them just don't look right on a t-shirt.
I don't know about you, but I've spent a lot of time looking for the perfect font to use on my shirts. Time that I should have been dedicating to cranking out new designs.
So, I made things a little easier for you. I went through Dafont.com (the largest font downloading website), and spent a few hours this morning compiling a huge list of good-looking free fonts for you to use. I'll be adding more as I find them, so bookmark this page and check back whenever you need a little font inspiration.
All fonts below are 100% free, and can be used for commercial use.
Enjoy!
Disclaimer: At the time this article was posted, all fonts below were available for commercial use. The owner of these fonts may change their policy at any time, so always do your own due diligence before downloading one of the fonts below. 
---
Sports & College Fonts




---
Bold & Bubbly Fonts









---
Calligraphy Fonts



---
Curly Fonts






---
Kids Fonts

---
Distressed Fonts











---
Destroyed Fonts








---
Halloween Fonts









---
Christmas Fonts







---
Other Holiday & Party Fonts







---
Pet Fonts



---
Outline Fonts

Comicate
What types of shirts sell the best?
Before downloading a bunch of the above fonts, read Amazon's Resource page. According to Amazon, shirts with the following qualities sell the best on Merch:
Designs on dark shirts (our t-shirt color selector is organized based on sales)
Distressed designs
Simple, identifiable silhouettes work well with content that has characters
Bold high contrast colors.
Larger art elements in the t-shirt design may get better response to online promotions, as subtler designs are hard to see in thumbnail views of the shirt
So, naturally, I chose fonts that fit that profile. There may be a few exceptions, such as if you wanted to throw some calligraphy into part of a design – but for the most part, I tried to find big, bold, destroyed fonts for you to use.
What colors should you pick?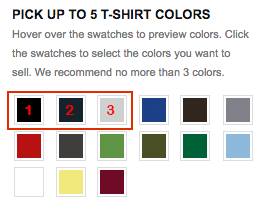 Black, navy, and Silver.
Those are the best selling colors for Merch shirts. The first two are the best selling dark colors, and silver is the best selling light colored shirt.
Amazon gives you the option to choose 5 colors. I usually do 3. There's some psychology behind this, but a lot of people believe that less colors = more conversions. The idea behind this is if you give your customers too many color options, they'll change their mind and not make a purchase at all.
If you're doing a white text design, at the very least – always choose black and navy. Silver doesn't stand out well with white text. The 3rd color is up to you – I usually do grey.
Finishing Up
Need some help installing all these fonts? Check out this short video tutorial I made. It's pretty straightforward. If you enjoyed this post, I recommend checking out a few of my other posts here.
Bookmark this page, share it with other Merch by Amazon sellers, and don't forget to sign up to be notified everytime I make a new post.
Thanks for following along! In my next post, I'll be revealing how Month 2 on Merch went for me (spoiler – it went much better than Month 1)
-Danny
Get some t-shirt idea inspiration below!