Hey guys!
I know it's been a few weeks since my last post, and for that, I apologize. Life's gotten a little busy for me these past few weeks. My daughter just turned five years old this past weekend, and we've got a 6 month old in the house, so needless to say – we keep pretty busy!
But I do have some exciting news: I'm going to start doing monthly income reports. I haven't came across many of these starting from Month 1.
I invite you to follow, as I start my journey from the very beginning. I'll go over things like how many shirts I've sold, how much I've made, how long it took to tier up, what things I've changed. My goal is to show you that anyone can be successful with Merch, even if you are just starting out and have limited design/Photoshop skills.
I've always enjoyed case studies for affiliate websites, so I hope you guys enjoy this one for Merch. Sign up here to follow along.
First Month Dashboard
I received my Merch invite on September 1st, 2016. Exactly 1 year after the Merch by Amazon program first launched. I applied back in March, so it took about 6 months to be approved. No one really knows how long it'll take to get approved. Register today if you haven't already.
You can always create designs while you wait, that way once you are approved, all you have to do is upload them.
Here's a screenshot of my very first month on Merch: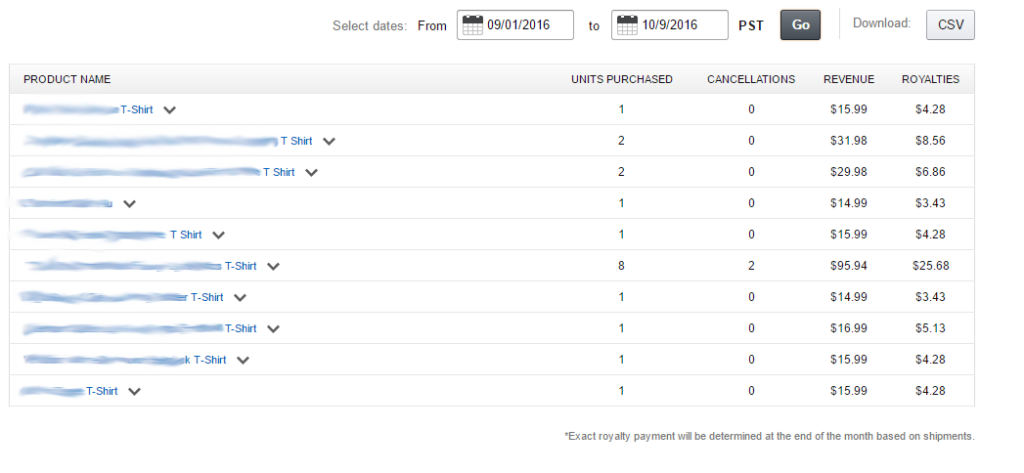 Total Shirts Sold
As you can see from the image above, I've sold a grand total of 19 t-shirts in my first month on the Merch by Amazon program!
Technically I've sold 17, since 2 shirts we're cancelled…But still! 17 shirts is a pretty good start. For someone who is not a graphic designer or an artist, I have to say that I'm happy with my success so far.
If you're wondering how I did it, I've written some really in-depth posts specifically for Merch by Amazon sellers. See links below:
Ultimate Starting Out with Merch Guide & Tutorial
Optimizing Keywords and Product Descriptions
How To do Merch by Amazon Research
If you're just starting out, you can only upload 25 designs to start out with. After 25 shirts are sold, you'll be placed into the 100 shirt tier. Then the 500, so on and so forth. I'm still in the first tier, which does limit the amount of success you can have.
Commission: Month 1
In my very first month, I have already made $61.65!
Coming from the Amazon Affiliate world, I used to spend 3-6 months building out a niche site to start seeing profits like this. So to make almost $70 bucks in my very first month – I'm very happy.
I use Photoshop for my designs (the cost of 2 shirts per month), but you are free to use Gimp or Illustrator if you want.
I'm sure many of you have sold way more in your first month, and that's great! I'm still learning. That's part of the reason I'm doing this case study. I think it's important for anyone just like me to understand that all it takes is a little bit of research, and you could be making some side income with Merch.
Any of you can be successful.
I've thought about deleting some shirts to make way for better ones, but many high-volume sellers don't recommend that. It could take a few months for your listings to "settle" into their respective ranking on Amazon, so I haven't deleted any shirts yet. I just wanted to see how well 25 originally-uploaded shirts would do on Amazon before deleting any.
And I'm glad I did! Some of my very first shirts – which I now think look terrible – have actually made sales this weekend. If they don't sell after a couple months, it's probably a safe bet to go ahead and delete them for now. You can always re-upload them later.
Marketing & Sharing
100% of my sales have been organic. That means every single shirt has been sold to someone who searched for a particular quote, sport, niche, topic, event directly on Amazon. I have not shared a single link anywhere.
It all comes down to 3 things: research, keywords, and appearance.
You need to choose a niche or quote that is already selling well on Amazon. You need to add enough relevant keywords so your buyers can find it no matter how they search for it. And it need to be visually appealing.
That does not mean copy someone exact design, or add a bunch of spammy keywords. Not only is it against Amazon's ToS, but it just looks unprofessional from a buyers standpoint as well.
Abide by these simple rules, and Amazon will reward you will sales.
I do have plan on sharing in the near future. Primarily Pinterest, Facebook, and maybe Instagram. If you created a camping shirt – find an outdoor Facebook group and share it there. Or create a Pinterest board with cool camping gear and add your shirt in the mix.
Tiering Up
New Merch members have the ability to upload 25 designs. I've already maxed my slots out.
At the rate I'm going, I expect to tier up within the next week or two.
To put things in perspective – If I'm able to replicate the same success with the next 75 designs, I would expect to sell 68 shirts per month. 68 x $3.61 average selling price = $246.60.
That is, if I can max out all 75 designs by the next case study update. I've also read that users are not tiered up automatically after the 25th sale. Amazon goes through once a month and updates the tier levels at the same time for everyone.
I've chosen to target evergreen niches. Or, t-shirts that will sell well year round. Funny quotes for instance would be an evergreen niche. I've got a few Halloween shirts up that have sold, but there is typically a lot more competition. There's also the potential to make a lot more as people want to purchase Halloween shirts this time of year.
My advice if you're just starting out is to target evergreen niches. Something that will continue to sell month after month. If you list 20 Halloween shirts and make 20 sales this month, that's great, but you won't make another sale for another 12 months.
Reviews
I haven't received any reviews on any of my shirts. Which is kind of a bummer. Amazon will place your shirt higher in the listing ranks if you're able to get positive reviews and ratings.
Since all the work is done by Amazon, you have no control over the customers order after a design is uploaded. So you're not able to contact your customer and ask for a review or anything like that.
I'm sure the more shirts I sell, the more I'll start to see reviews on my designs. That's just part of the game.
Final Thoughts
Overall, I'm pretty happy with the Merch by Amazon platform. It definitely seems like a viable, scale-able way to generate some side income.
I'll have a lot more to see for my next update.
What would you guys like to see? Do you have any questions/comments/thoughts you think I should highlight on for future case study updates? Wanna follow my journey?
As always, thanks for reading.
-Danny
Get some t-shirt idea inspiration below!