Hey guys!
Welcome back to Merchpursuits.com. Today, I'm going to show you how to optimize your Merch by Amazon Product Descriptions. Specifically what to write, what not to right, and the correct format you should be using. The goal is to get your shirt in front of as many potential buyers as possible, right on Amazon.
If you are new to Merch, you'll want to read this Getting Started post first. Oh, and I started a Case Study about my first 30 days here!
Let's get started!
Edit: A newer version of this article has been published here! I recommend reading both.
Mastering Keywords for Merch By Amazon
The best way to make sales is directly on Amazon. Not surprising, right? Your goal is make your listing show up for as many relevant keywords as you can without coming off as "spammy". If you do it right, you'll never have to market your shirts outside of Amazon.
Before using any other tools – I always start with a tool called MerchData.io to get live, accurate Merch sales data. (Many other tools show older, historical data, so I like to start my research out on MerchData FIRST)
We're going to focus on optimizing your title, product descriptions, and product features in this post by adding high quality, relevant keywords into each design. This ensures that no matter how someone searches for a shirt, they can find yours. Even if they search something semi-relevant, we want them to find your shirts.
This does not mean you should add a huge list of keywords. This is considered spam, and is against the Merch by Amazon policy. Plus, it looks just plain unprofessional. Spam may work in the early stages of the program, but Amazon will catch on eventually, and you'll end up losing everything you worked so hard for.
Play by the rules, and Amazon will reward you with sales. It's as easy as that.
Getting Started
Take a look at the below example Merch by Amazon t-shirt. You'll see four fields: Brand Name, Title, Key Product Features, and Product Description.
These are the only fields you can add keywords to, so use them wisely.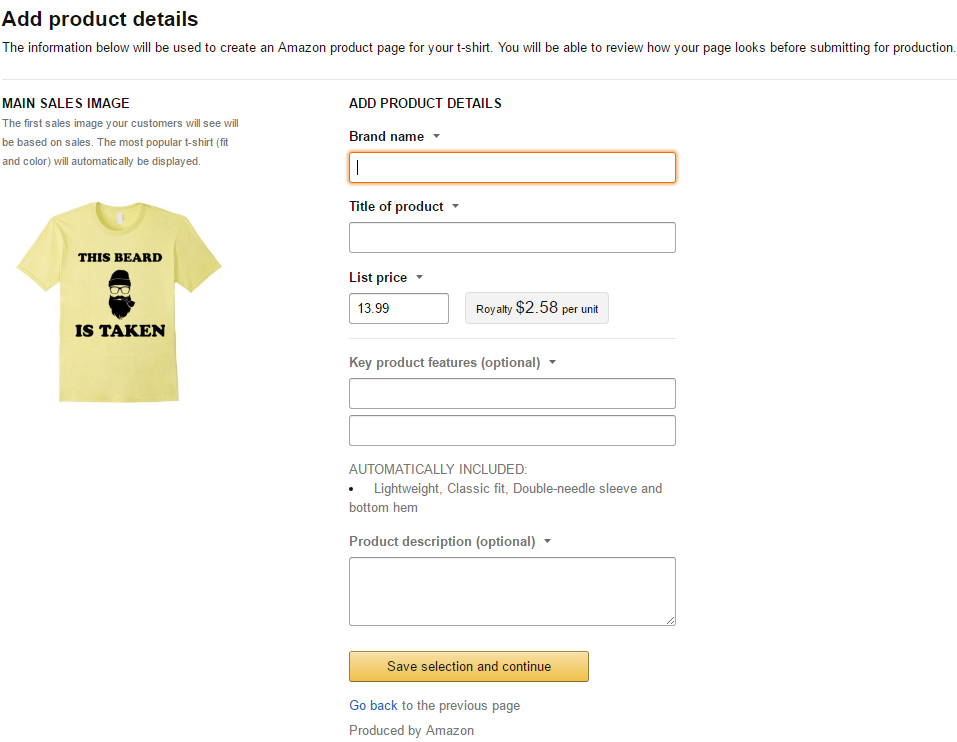 Brand
Essentially, this is the name of your t-shirt store. You can either create all of your designs under one "umbrella" brand, or create separate brands for each. I usually create different stores for each niche.
There are advantages and disadvantages to both. If you use only 1 brand, you risk a competitor swooping in and copying all of your designs. However, if a customer really likes your design and wants to see more, they'll click on your brand hyperlink to see more.
That's why I separate each niche into it's own brand. If they like my beard designs, they are more likely to view my other designs. They couldn't care less about my wolf t-shirts, so I would create a separate brand for those. On the plus side, if a competitor likes my design, they can click my brand and only see the designs I have listed under that brand.

Title
If they were looking for your t-shirt, what would you type in?
Use the quote, the niche, your target audience, and then add a few modifier terms to it. Things like "funny, cute, hilarious." You could also add holidays, relation, state, or event.
If you have any additional room, fill it up with other relevant keywords that a customer may search for. Again, don't make it spammy. There are ways to use up all the title space without coming across as spammy.
Also, don't use duplicate words in your title. Having the same word twice doesn't increase your shirt's rank on Amazon. You are better off finding another suitable keyword to enter.
Good Example of a Merch Title:
"This Beard Is Taken Funny Fathers Day T-Shirt"
Bad Example:
"Cute Funny Hilarious Sexy Beard Shave Men Dad Boys T-Shirt"
Key Product Features
This is where you need to be a little creative. You will be formulating a short story that answers the Who, the What, and the Where of the buyer.
Who is the shirt for? (Campers, Hikers, Aunts, Siblings)
What do they like to do? (swimming, biking, running, playing video games)
Where would they wear this shirt? (work party, camping trip, family vacation, college)
Your completed story will then be broken into the two bullet points. Use both bullet points. Add as many keyword rich keywords as you can fit in each bullet point without spamming or keywords stuffing.
If you don't, you are missing out on keyword opportunities. I also like to add several modifier terms to my story. Words like "Cute, Funny, Hilarious, Crazy, Best" etc. If you can't come up with any words, open up a Thesaurus and find relevant keywords that way.
If you don't know how to write a good bullet point, you can literally copy my example below and swap out any words to match your niche.
First Bullet Point Example
This is the perfect t-shirt for any outdoorsy survivalist, hiker, camper, fisher, rower, homesteader, or nature lover you know that has a unique sense of humor and classy style. If you're a real nature nut, this shirt is for you!
Second Bullet Point Example
Featuring deer antlers, a quirky pun, camo text, and an impressive beard, this shirt is perfect to wear to the lodge, wild game dinners, hunters safety courses, the gun range, archery practice, or family holidays parties. Show your wilderness spirit by rocking this crazy, hilarious, awesome apparel.
Now, these examples may be borderline "keyword stuffing". I more or less wanted to give you an idea of the types of words you could use to formulate your "story".
Speeding Up The Writing Process
Coming up with a good story may seem like a pain in the neck. But in reality, all you need is to create is 1. You'll use this "story" as a template for any future designs, and just replace the keywords as necessary. But here are a few ways to simplify the process a little.
If you find yourself creating a lot of t-shirts in the same niche, you may want to keep a Word doc of all your completed Key Product Features bullet points. Whenever you add a new shirt, just press CTRL+F, enter the keyword or niche, and it'll find one of your completed bullet points you used from a previous shirt.
Some people also like to keep a spreadsheet of keywords. Each column is for a different niche, and you can add relevant keywords under each section. That way, you always have quality terms to pick from without having to search everytime you upload a new shirt in that niche.
Product Description
I don't add anything here.
Several high-volume members of Chris Green's Facebook group have run A/B tests on this section, and because it's optional, it doesn't appear that Amazon is using anything from this section as a ranking factor. It may not always be this way, though. If anything changes, I'll update this section.
I haven't personally done any testing on this section, but I'm not having any issues ranking and getting sales by focusing solely on the bullet points.
I find it just reiterates what I've already put in the bullet points anyway. But it's up to you. I may have to go through all my listings in the future and edit these. But for now, I don't worry about these.
Where to Find Quality Keywords
Wondering where to find high-quality keywords? Or maybe where you can find quality product descriptions to sort of? I always start with Amazon itself, but here are some others: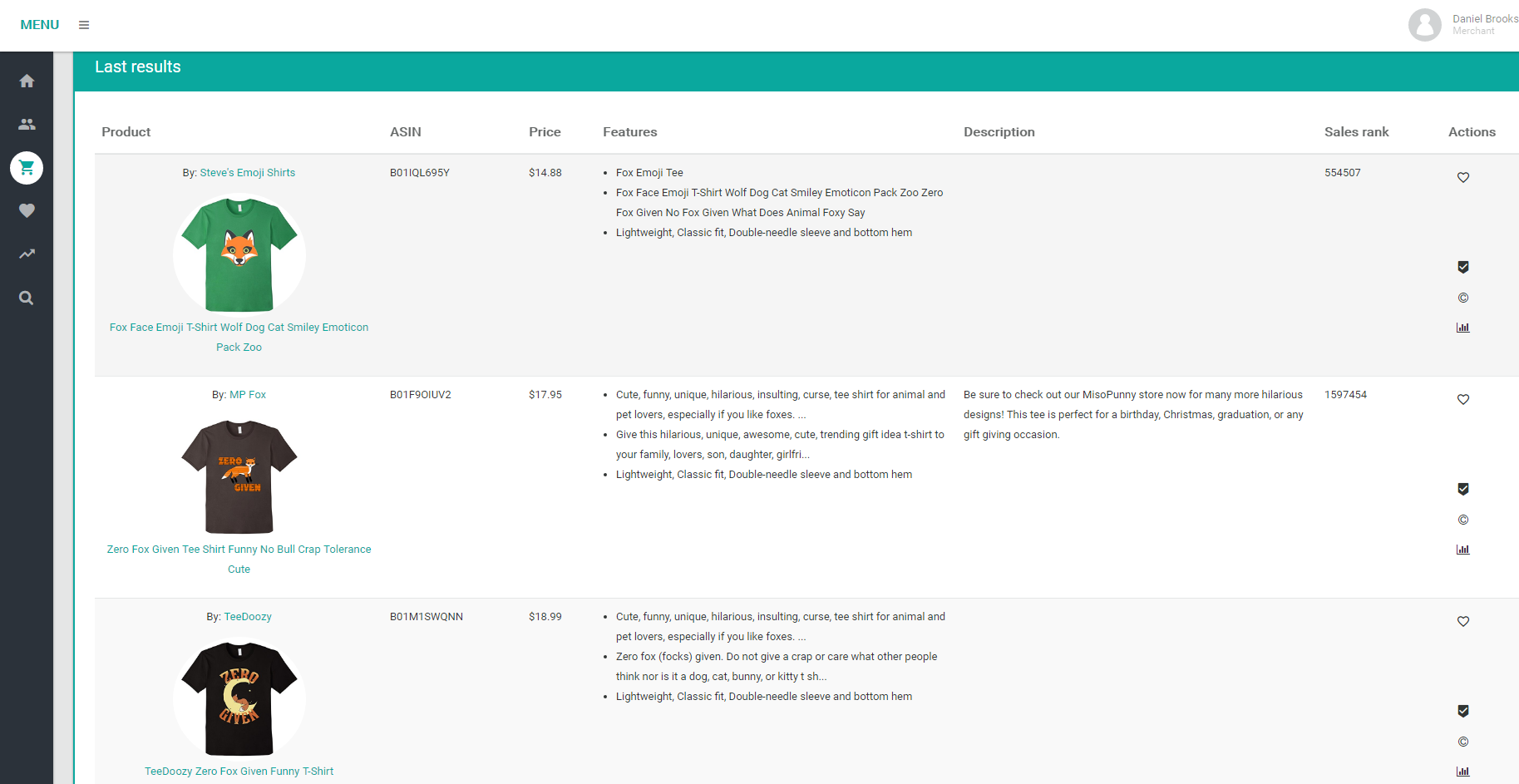 (image shown is from Merch Informer)
Amazon.com – Enter any t-shirt into Amazon. Look at the top product descriptions, how they're wording their titles., what verbage they are using. You can even branch out and look at coffee mugs or beer koozies for more ideas.

Search other Amazon Merch shirts – Type Lightweight, Classic fit, Double-needle sleeve and bottom hem into Amazon search. Or click this link. Any results will be shirts directly from other Merch sellers.

Google Trends – See what's trending, and take a few of those keywords.
Buzzfeed – Buzzfeed uses a lot of catchy, quirky terms that draw in millions of viewers a month. You are bound to get some inspiration on there.
Facebook Ads – Yes, those ads you refuse to click may actually help you craft the perfect product description.
Walmart / Retail Stores – Especially during the holidays, you can find some great inspiration by walking down the Halloween or Christmas isles. Take your phone or a notepad with you.
TV – As long as you aren't watching 90's reruns, you should be able to find relevant words or quotes.
Keyword Research tools

Merch Informer – Another awesome tool used for researching, organizing, and looking up t-shirt competition.
Merch Buddy – The fastest way up upload Merch by Amazon designs. Seriously, this is the best $20 I've spent on a Merch tool so far.

Niche websites – Look up any niche + website on Google, and read through some of their articles.
Newspapers, news outlets, and radio – Lot's of good ideas up up-to-date/trending topics.
Click here to see the full list of Merch Research tools I use.
Wrapping Up
Follow this Merch by Amazon tutorial for each and every shirt, and you will start to see sales trickle though. If you're already a Merch by Amazon seller, you should really spend a day or two edit all of your listings to follow this format.
If you have any other tips/tricks/advice you think I should add, or if this guide helped you, I would appreciate a share or comment below.
Thanks everyone, and happy merching!
Be sure and check out my next article, How To Do Merch By Amazon Research for an in-depth research guide, or sign up for any future updates or to follow along with my Merch case study!