Hey guys!
Welcome back to MerchPursuits.com. Thanks to my latest Getting Started and Optimizing Product Descriptions posts, my inbox has been flooded. Which I guess is a good thing! I'll be sure to keep the posts coming.
Today, I'm going to answer a question that I've gotten countless emails about: How To Do Merch by Amazon Research.
So without further ado, let's get started!
Case study #1, and sign up to follow along here.
Starting Your Research
If you're just starting out with Merch By Amazon, you are probably wondering how the heck you are supposed to come up with t-shirt ideas. And I don't blame you. There's hardly any info or free guides to help you along the way.
I always start my research process using a tool called MerchData.io This tool is awesome, and provides me with the most accurate Merch sales data so I can research using live data, not older historical data. After that, I use Amazon.com directly.
I also use a visual research tool called SpyAMZ, which has definitely helped find best selling shirts with very little effort on my end.
After all, this is where you can see what designs are selling and which ones aren't.
Before we get started, it's important to note that there's two types of shoppers on Amazon: those who search their item directly from the homepage, and those who drill into the specific category.
I fall into the "search from homepage" category, but I may be an outsider, here. Oh well.
All Merch by Amazon t-shirts get placed into a "Novelty & More" category.
The category is as follows: Clothing, Shoes, and Jewelry >Novelty and More > Clothing >Novelty
As a Merch By Amazon seller, you will be focusing on ranking highly in this section only. This also means your shirt research will be done in this section.
We aren't going to try and rank first page in the "men's t-shirt" category on Amazon. There are literally thousands of sellers there, all with hundreds of reviews and ratings, and it would be entirely too difficult to stand out there. In time though, your Merch shirts may climb the ranks and show up on one of those first pages organically.
Searching from the homepage also means any research you do will return not only Merch shirts, but FBA shirts, individual sellers, and other businesses.
We don't care about those.
Your goal as a Merch by Amazon seller is to rank in the Novelty section.
Picking Out Merch Shirts
In order to research ideas, we first need to know what a Merch shirt looks like. All Amazon Merch shirts will have the same two things: a visible white tag by the collar, and a standard sizing chart.
It looks like this: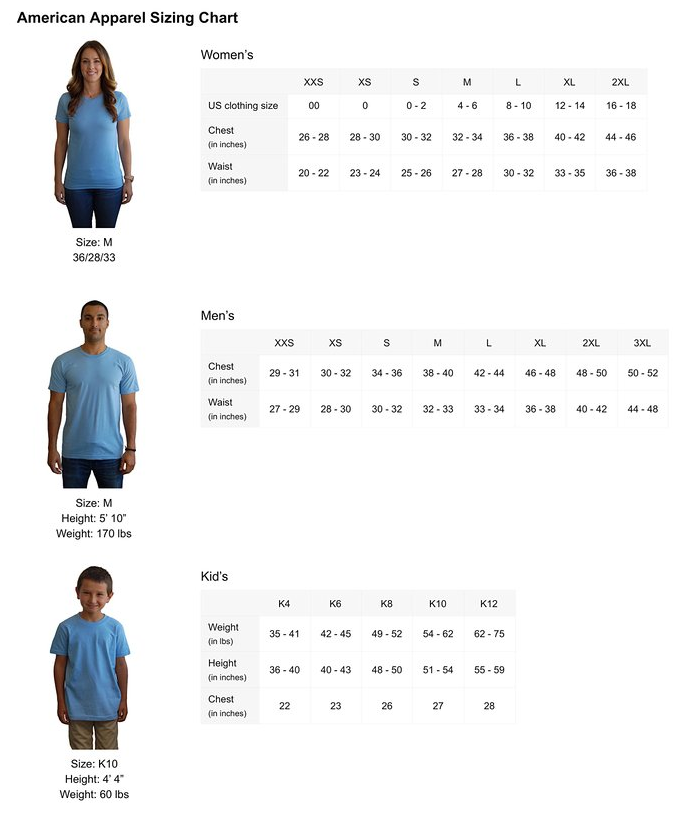 This is important to understand because you want to find best-selling Merch shirts, not just any shirts in the "men's t-shirts" category. If you can quickly and easily understand what a Merch shirt is, you can save yourself a lot of time wasted researching.
Where To Start
To start your merch by Amazon research, you need an idea. A quote, a pun, a joke, an image, a meme, and animal.
SOMETHING!
So, where do you go to get ideas?
As I said, all Merch By Amazon t-shirts get placed into the same category on Amazon. All Merch listings have a white tag and sizing chart. They also all have the same exact bullet point.
You will also need a place to find relevant vectors for your designs. I use Vexels.com for any graphics I put into my own designs.
This:
"Lightweight, Classic fit, Double-needle sleeve and bottom hem"

Here's a neat trick you can use: Type that phrase into Amazon, and 95% of the results will be Merch t-shirts. It's time to start scrolling through these results. You are looking for t-shirts with a low BSR (best sellers rank). More on that in the next 2 paragraphs.
You can also append a term or niche to that quote to futher narrow down your Amazon research.
Like this:
"Lightweight, Classic fit, Double-needle sleeve and bottom hem video games"

Use Chrome
I highly recommend using Google Chrome for your research, and that's because there are several valuable extensions designed specifically for Merch by Amazon sellers to speed up the research process.
Here's what it looks like in action:

Check the Best Seller Rank
If you decide to use any browser other than Chrome, you can still find the BSR of each product. It's just a little more time-consuming.
For this example, we'll use the example "No Fox Given".
To find the BSR of any t-shirt, search for any design, click into the listing, and scroll to the Product Description section. If you're on the Amazon mobile app, scroll down and click into the "Features and Details" section. This is where you'll see the BSR.
The reason we use the BSR because that tells us whether or not a shirt, quote, or design is selling effectively.
Low BSR = more shirts sold per day
High BSR = less shirts sold per day
BSR isn't the only factor that determine's a designs rank. Having optimized your keywords is another factor. So just because the shirts have a high BSR and aren't selling, it could be because the seller hasn't added any rich keywords to the bullet points.
If you're just starting out, you can just focus on the BSR for now.
Determining Idea Viability
Once you've checked the rank, you need to determine if it's a solid choice or not.
Enter your idea into the Novelty & More section. What do you see?
For this example, I see only 17 listings, and see a #789,000, a #450,000, and a #3,000,000. All the other shirts listed do not have rankings yet, which means they haven't sold anything.

Generally, I'm looking for shirts in the #200,000 or lower range. In my experience, that sort of proves that that shirt selling at least once every couple days.
So, the example above would not be a good choice. While one design does have a low #300,000 BSR, the fact that none of the other designs seem to be selling as well tells me these designs aren't selling very well. These shirts are no good, onto the next one.
If a shirt doesn't have a rank, that means it hasn't sold anything yet.
T-shirt rankings will change. Frequently. Especially if you're targeting holidays, news, sports, political events, tragedies, or natural disasters.
So, don't always discount a unique idea or design if it can be affected by seasonal fluctuations. For your first 25 designs, however, I would recommend focusing on "evergreen niches". These are ideas/quotes that are relevant year round.
Use Amazon for Inspiration
Once you've found some inspiration, fire up Photoshop or Gimp.
If you are still waiting your your Merch invite, you can download the templates from me here:
You do not need a Merch account to get started making designs. Follow along with this blog and create at least 25 designs. That way when you do get accepted, all you need to do is upload!
Start by looking at the best selling designs on Amazon. These will be the few with the lowest BSR. Use these designs for inspiration.
What makes them unique? What vectors are they using? What colors? What quotes? What font?
Most t-shirts fall under 1 of 3 categories; text only, text with vector, image only. Determine which ones are selling best for that design, and base yours around it as well.
Back to the "No Fox Given" example. Almost all the designs are created the same way, albeit using different vectors and fonts. A text only version probably wouldn't sell well, because you need the image of a fox to make the pun make sense.
Do not copy someone else's shirt. This is how you get banned from Merch by Amazon.
Check Other T-Shirt Platforms
After checking Amazon, it's time to branch out. Google "niche + t-shirt" and search Google images. You are bound to find several shirt ideas from Google.
Check other print on demand sites like Teespring or Redbubble. Teespring has a pretty neat feature that actually shows you how many shirts of that design have sold. Again, don't copy and paste anyone's design, just get some ideas. The designs that you see are selling really well on Teespring would also sell pretty well on Amazon.
Make it your own, and make it unique.
Social Media
Social media is a great place to come up with t-shirt inspiration. Scroll through your feed and I'm sure you'll find something interesting to turn a shirt into. Some of your friends may have witty comments, or great points, or they may share an intriguing story. Use these for t-shirt inspiration as well. A lot of times news articles will coin a term that beings to really pick up on social media.
#NetflixandChill is a great example of that. Had it not been using a copy written company's name, you probably  could have made a few shirts off of it. Other examples are:
Black Lives Matter
Hilary For Prison
A great place to check for trending hashtags is Twitter. Looking at Twitter today, I see this: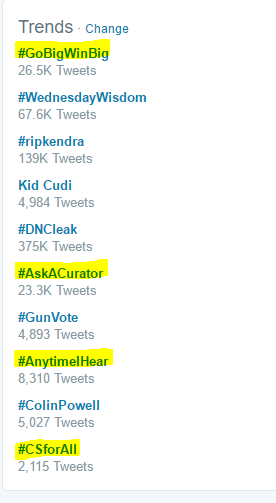 You can either use the hashtag itself if you think it would look good on a t-shirt, or click into the hashtag. Look for funny pictures, memes, or quotes to add.
Trending shirts do really well on Merch. Just make sure you abide by Amazon's ToS. Anything related to movies, TV shows, or music is off limits.
Using Memes for Inspiration
A lot of times, you can find some killer quotes and designs from memes. Other than Twitter, a good place for memes is Google, Reddit, 4Chan, and Facebook.
Enter your quote or idea into each of those, and you are bound to find some quality ideas.
Pinterest
I don't use Pinterest all that much, but I find it very useful if used correctly. Here's what you can do:
Create a board. Follow a bunch of motivational pinners, quotes, funny pictures, or entrepreneurial-type boards. If you ever just can't think of a good quote to research, open up that board. Here's what you might see: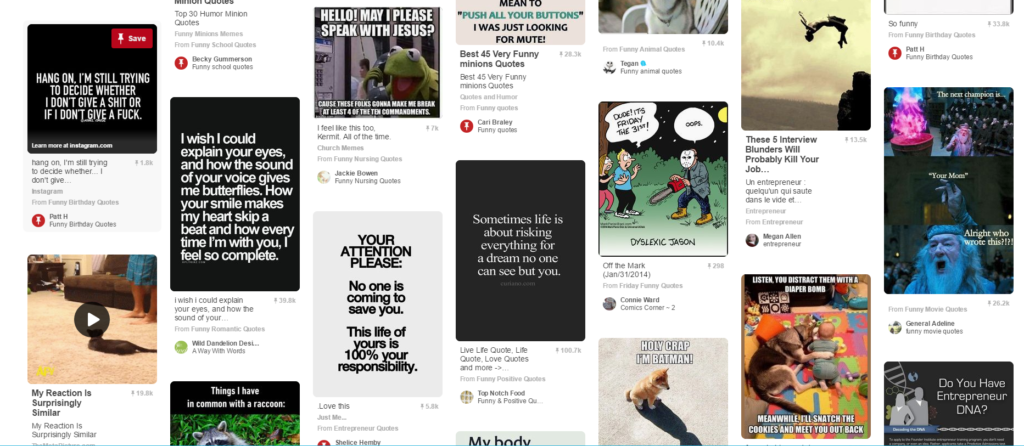 Just look at all those quotes! This is by far one of the easiest ways to find quality quotes that may make awesome t-shirts.
Merch Research Tools
If you want to look up what shirts are selling well, check out my reviews of Merch Informer and Merch Titans. These are two software tools that help with Merch research.
Wrapping Up
That's about it! This is the process you should be using for each and every t-shirt you create. If you have other suggestions on how you gather t-shirt inspiration, leave a comment below and I'll be sure to credit you and your ideas.
Thanks for reading!
Get some t-shirt idea inspiration below!