Reddit is by far one of my most-visited websites. It's become my go-to source for news, interesting content, trending videos, and much more. It's also one of the largest websites in the world.
As it turns out – Reddit is also a great place to find unique quotes for your Merch shirts!
But, it's important to understand how Reddit works before you just jump right in.
What Is Reddit?
Reddit is the "Front Page of the Internet".
It's the go-to place to find anything and everything interesting on the internet these days. It's one of the largest websites in the world, and has over 300 million members. It's absolutely huge. Everything on Reddit is posted by members. The best posts get upvoted to the top, while the crap gets downvoted into oblivion.
Within Reddit, there are tens of thousands of individual communities that members can subscribe to. There are known as "subreddits". A subreddit is a basically a forum dedicated to a certain topic within Reddit.
Users can post topics, pictures, links or start discussions to each subreddit. If the community likes your submission, they "upvote" it. The more upvotes your post receives, the better chance others will upvote it as well.
And just like a forum, members can leave comments on each post. These comments can also be upvoted.
What Is An Upvote?
An upvote is similar to a Facebook like. On Reddit, an upvote also symbolizes visibility. If readers find a comment funny, witty, or helpful, they upvote it to make sure others get to see it too. Because of this, hilariously clever comments often rise to the top of each post.
Take a look at this stingray post someone submitted:
Great picture, right?
This one post garnered over 57,000 upvotes, and received almost 1700 comments. Here's what the top comment said: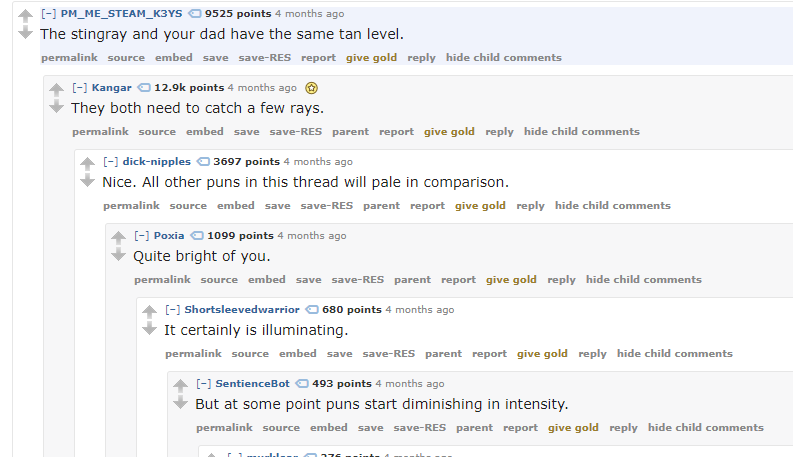 I'd agree with that comment, and upvote it as well. Funny comments like this end up being upvoted on Reddit all the time.
Reddit & Merch by Amazon
So, what does Reddit have to do with Merch by Amazon?
Reddit can be used in many ways during your Merch journey. You could… market t-shirts to a particular subreddit (be careful, each subreddit has their own rules and self-promotion is almost always frowned upon). You could also use Reddit to find designers or get Photoshop advice.
There's a lot of ways to utilize Reddit for Merch by Amazon.
However, I'm not going to go over all of that in this post. I'm going to show you something even better, something I haven't seen discussed by anyone else yet:
Using Reddit to find clever quotes that can used on a t-shirt.
The Origin of A Quote
During your Merch research, have you ever thought to yourself "Where do people even come up with these quotes?"
I'm not talking about your traditional t-shirt research methods, where you go to Google or Etsy and type in "funny baseball t-shirts" and find a quote from one of the results. I'm talking about the very first person ever to use that quote on a t-shirt.
It had to have come from somewhere!
This is where Reddit comes in. Regardless of what subreddit I visit, almost every post has some sort of hilarious, off-the-wall comment from someone. These comments are quotes that I can use on a t-shirt.
Why not use these on a t-shirt? It's perfectly fair game.
Now, most people (including myself) use Merch Informer to come up with design ideas. Others look at other Print of Demand sites like Teespring or Redbubble, or search Google Images. Those are definitely viable ways to research, but it's important to note that these aren't the ONLY ways.
Sometimes the best kind of research is the research no one else is doing. Instead of competing against others over a quote, you could be uploading 100% unique quotes that no one else is using!
I've had really good luck with this method, so I thought I'd share with you how I do it.
Using Reddit For Merch Research
You can find unique quotes in almost any subreddit. I do really well with selling t-shirts with puns or funny quotes. Puns and jokes are typically evergreen quotes, meaning they'll sell great all year long. It's also a relatively risk-free way of researching. I don't even have to spend much time checking trademarks on most of these because the chances someone's random phrases is trademarked is very slim.
So, why am I talking about this method?
Many of you are Redditors already. Instead of mindlessly reading Reddit posts all day, you could also be looking for design ideas within the comment section of Reddit.
Try it out next time you run out of design ideas. I'm willing to bet you can find more than a few comments or quotes within your first few minutes on the site.
Pun Trains
Let's take this one step further. Rather than specifically going on Reddit to find funny quotes within the comments…here's an even easier way:
Finding pun trains.
A "pun train" is essentially a long list of puns playing off of each other in the comments section of a post. Redditors call these "pun trains".
Take a look at some pun train examples below:
Example 1 – Trains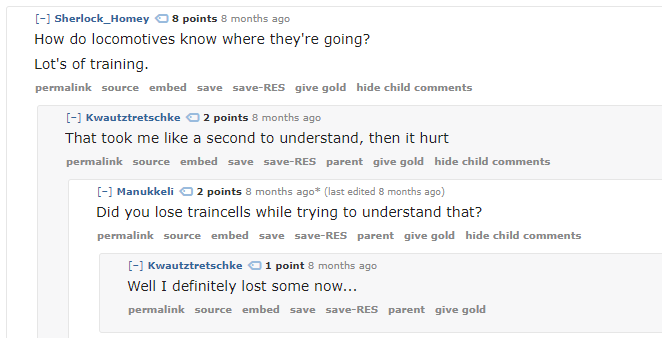 Example 2 – Lobster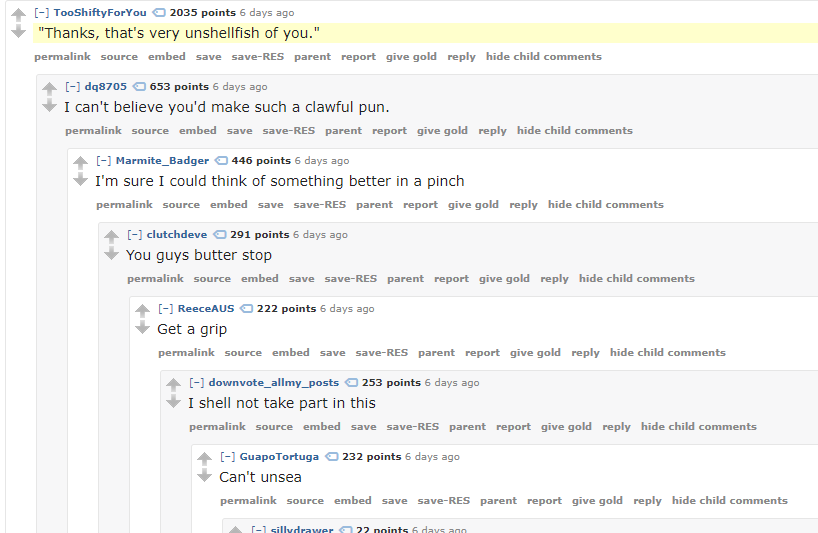 Example 3 – Raisins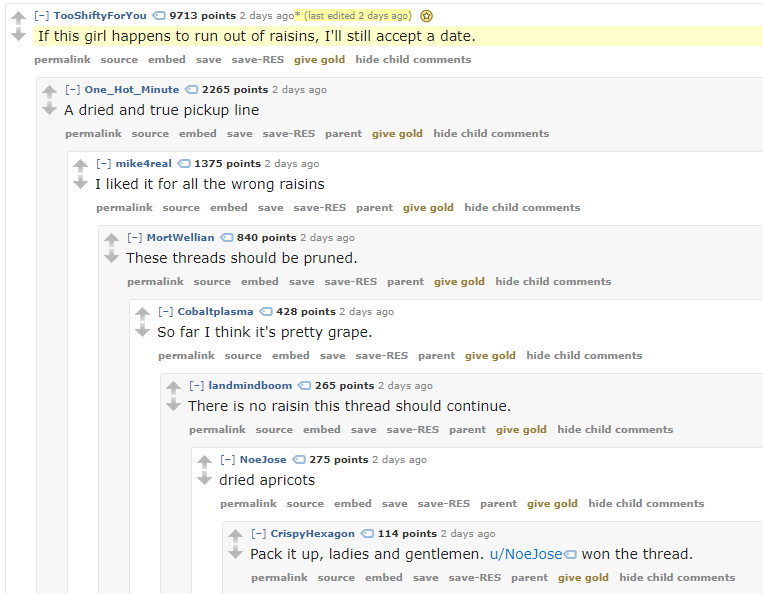 I found all of these within just a few minutes on Reddit. I see at least 10 t-shirt ideas in those 3 threads!
How To Find Pun Trains
As dumb as this sounds, if a Redditor sees a pun train beginning to the form in the comments, they often times leave a comment like "all aboard the pun train!".
Searching for pun trains using Reddit's search can be less than helpful, so what we're going to do is use a free service called TrackReddit that will notify you when someone mentions the phrase "pun train".
Step 1
Create a free account here: https://www.trackreddit.com/
The homepage looks like this:

Step 2
Add a username, password, and email address.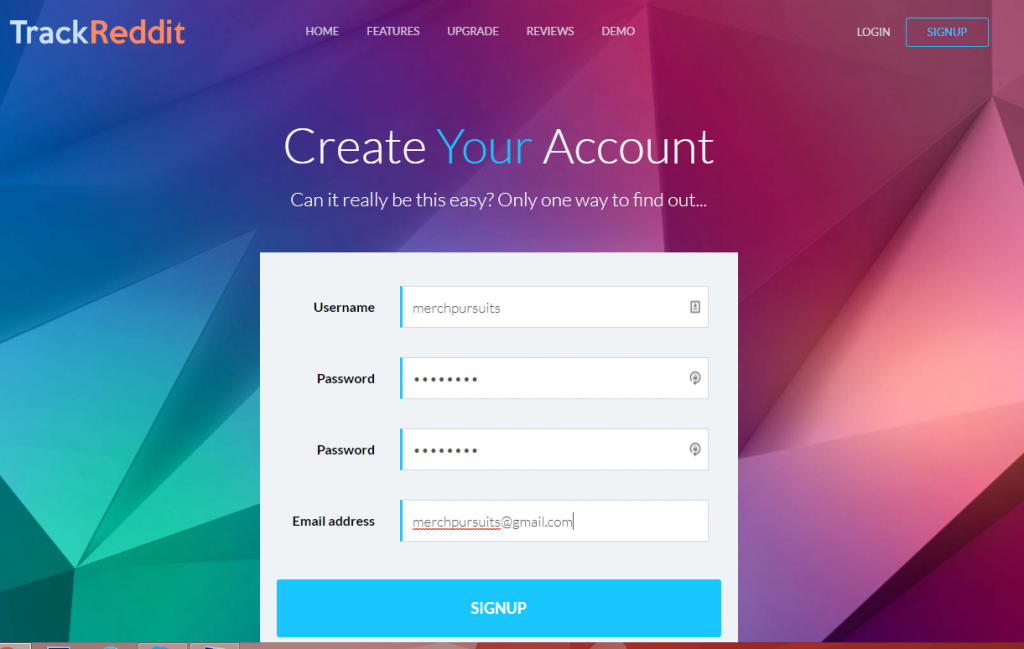 Step 3
Click Tracking on the left column, and add pun train to the "track this keyword'" box. (Note: Trackreddit lets you track two phrases for free. You could also track "joke", "pun", or something similar.)

Step 4
Now, you wait.
TrackReddit tracks whenever your keyphrase is used on Reddit. Pun train isn't a common phrase, so don't expect results right away. But it is a relatively simple way of finding out when a pun train is brewing without having to actively search for them. You can choose to be notified by SMS or email if you want, too.
Everytime you sit down to do merch by amazon research, just check your TrackReddit account. It's yet another way to simplify your workflow.
If you don't feel like waiting, you could join the very punny subreddit. This entire subreddit serves one purpose: To have users posts links to Reddit posts where pun trains have formed.
It's not a very huge or active subreddit, but it does have a a new post every couple days. Still worth subscribing to.
Finishing Up
All in all, there's no right or wrong way to research Merch by Amazon t-shirts. If you haven't signed up for Merch Informer yet, I highly recommend you do that. It's free to try out for 3 days, and has helped me earn over $1,300/month on Merch by Amazon.
But like I said – Merch informer isn't the ONLY way to research. Some of my best selling shirts have have been discovered using this Reddit Research method, so I thought I'd share.
Hopefully it helps you find some hilarious, unique t-shirt designs!
Get some t-shirt idea inspiration below!