Are you using Amazon Autocomplete during your Merch research?
If you're not – you really should be.
This is a neat trick I stumbled upon recently, and it's helped me come up with hundreds of new shirt ideas and keywords instantly.
Hopefully I can help you do the same.
Let's get started!

What Is Autocomplete?
Autocomplete is a software function that gives users the option to complete words based on what has been previously typed before.
If you don't know what autcomplete it, you've probably been living under a rock for the past 5 years. It's on almost every website nowadays. You use it daily to complete Google searches, to fill in login forms, or to give you Youtube recommendations. You've probably use autocomplete so much it never occurred to you to use it for  your Merch by Amazon research.
So… why is no one in the Merch communties talking about it?
Because they don't know about it. 
I didn't find out about it until recently myself. Let me rephrase – I knew Amazon recommend items to me when I started a search, but I never thought to use it for Merch research purposes.
During my typical Merch research workflow (before Merch Informer, that is), I've never sat and thought to myself "Why is Amazon recommending this design to me?"
And then one day it clicked.
Amazon uses autocomplete to recommend t-shirts because that's what other people are searching for. We should definitely be using that data to determine whether or not we should target a design.
For most Merch sellers, we've just been typing ideas into Amazon and looking for a low BSR. While that's great, and still a great way to determine whether or not you should tackle a design, it's not the only way you can research.
Hopefully I can shed some light on this topic.
Why is Autcomplete Important for Merch by Amazon?
Autocomplete (in terms of Merch) should really be called "Auto Suggest". When you go to Amazon.com and type in a phrase into the search box, it suggests t-shirts based on:
What customers have previously searched for
What customers have previously bought
What keywords are in the title/bullets
Amazon isn't dumb. They know that the more a topic is searched, the more of that item will be purchased. It's just common sense.
So it makes perfect sense that Amazon would display "recommended" t-shirts in the dropdown when we search for designs. Amazon isn't doing that to help us as Merch sellers; it's to help guide the customer to make a more accurate purchase.
But, we can actually use that same data to determine what sellers are buying. If we see a quote being autocompleted on Amazon – someone, somewhere must be buying it.
Who Uses Autocomplete?
As I mentioned in my Getting Started with Merch post, there's two kinds of Amazon customers:
Those who search from the Homepage of Amazon, or
Those who drill into a specific category first.
I fall into the first category.
If I'm looking for t-shirts, I NEVER click Departments >Clothing, Shoes & Jewelry>Men>Clothing > Shirts. That's too much work. I could just as easily type in any phrase + t-shirt right from the homepage.
The majority of customers probably have the same train of thought. That's why thinking like a customer is very important.
Here's an example..
Go to Amazon.com.
For this example, I'm using the phrase "Don't mess with Texas" (I live in Houston – it's the first phrase I could think of)
Start typing in that phrase, or pick one of your own. You should a screen that looks like this: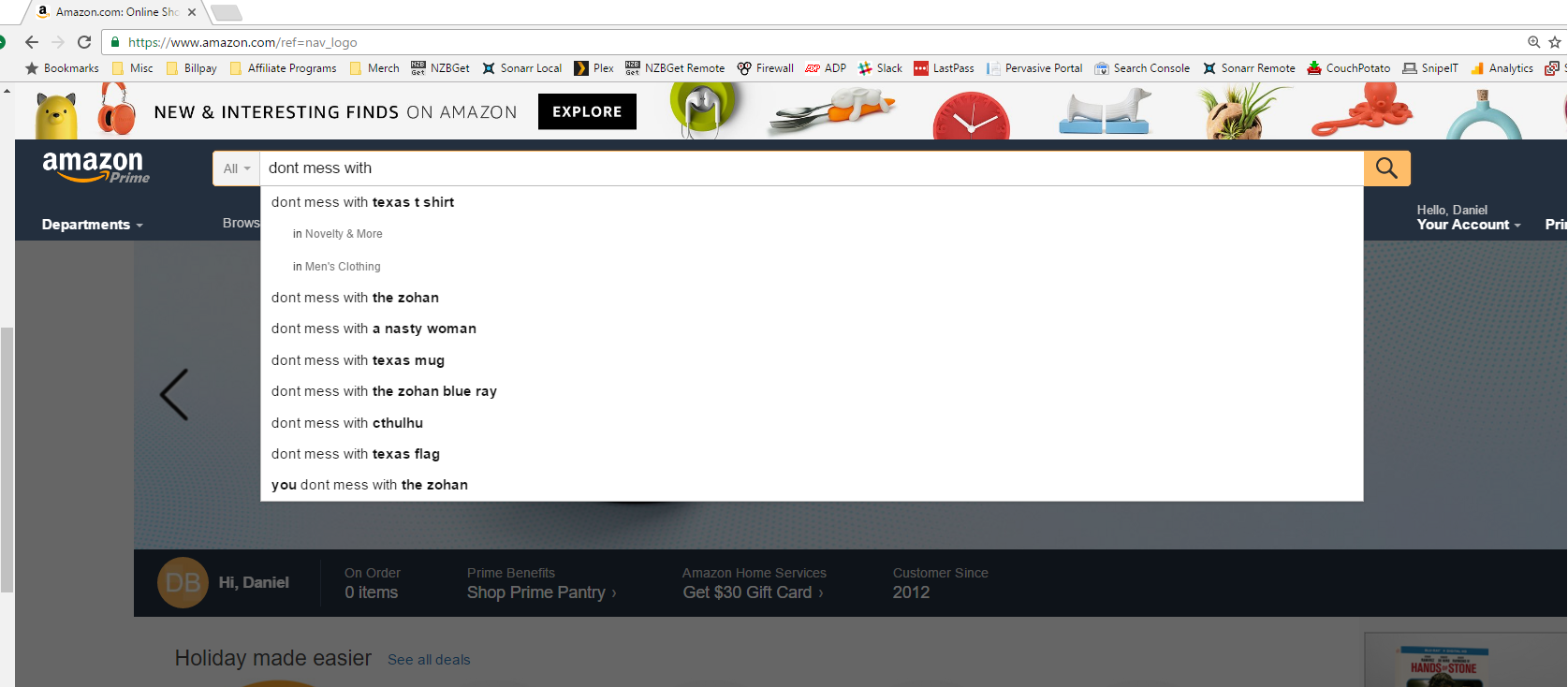 Do you see what I see?
Amazon recommends that I click on the "Don't Mess With Texas T-Shirt" in The Novelty & More section.
Which as we all know – that section is the section our Merch shirts get uploaded to.
The first thing I'm noticing is that their Merch shirts are being shown first in the dropdown listings. Which is great for Merch sellers. Amazon wants to get us in front of all other t-shirts.
It also shows a bunch of other results. I see a Don't Mess flag, a coffee mug, a blue ray…
While those are irrelevant for Merch, that's just the nature of auto-suggest.
Because we haven't fully typed out the phrase "Don't Mess With Texas T-shirt", and explicitly told Amazon we're looking for shirts, they show us any number of possible things customer may be shopping for.
Again, Amazon is trying to help the customer decide what they want.
Why is Amazon recommending Merch shirts first in the dropdown?
Plain and simple – it's their program.
Think about this: If you owned a website and let others sell products on it, would you recommend their products over yours?
Of course not!
This is where you have to think like a businessperson. It makes perfect sense for Amazon to recommend Merch shirts over anyone else's to their customers because Merch is their platform. They make a 15% commission off of each merch shirt sold. In a way, they are "promoting" their Merch shirts to their customers. And in most cases, the Novelty and More section is the very first auto-suggested term, too.
Again, this is very good news for us Merch sellers.
Amazon WANTS customers to buy Merch shirts as opposed to regular sellers' shirts. Promoting their Merch shirts ensures a few things:
Quality Control
Consistent shipping times
Quick, easy return process
Guaranteed 15% commission on all shirts sold
Prevents copyright infringement
Yes I know, copyright infringement still plagues Merch, but I want to believe they are working hard behind the scenes to combat that.
That's why it's still invite only and why no one is tiering up yet (including me!). it sucks, but it's their platform and I can only hope they are working hard on improving their infrastructure.
This understanding of WHY they list our shirts first sets the stage for Merch as a whole. It's only a matter of time before other products are added. It might be months, or years – who knows. It is called MERCH by Amazon, after all. The name itself indicates that all kinds of branded Merch will eventually be available in their pipeline.
Some lucky users have even been sent surveys from Amazon asking what they would like to sell in the future.
Think Merch tank tops, mugs, water bottles, beer koozies etc. It only makes sense that they will be recommending these types of products right from Amazon autocomplete, too.
Using Autocomplete For T-shirt Research
So, now that you understand why Amazon recommends Merch t-shirts, how can we use that to our advantage?
It's simple. Very simple. The goal of Merch is to create & upload designs that customers will purchase.
Start typing a phrase into the search bar.
If it shows up in Amazon Auto-Suggest, that means people are searching for & buying it.
Does it auto-fill anything? Do you see a recommendation from the "Novelty & More" section?
If not, it's probably not a phrase people are looking for on Amazon. And if people aren't searching for it – it's not selling. Amazon won't suggest or recommend something that no one is looking to buy. That's just smart business.
If you press enter and complete the search. you still may see designs with that exact quote on it, and they may still have a low BSR. But the thing you have to keep in mind is we have no idea why that design may have a low BSR. Amazon doesn't and never will give us that data. Maybe it was shared in a relevant Facebook group and snatched up by a few people, or maybe a group of teachers each bought 10 t-shirts for their classroom. We'll never know. That's why relying solely on BSR may not be the smartest move.
In general though, if a phrase isn't being auto-suggested by Amazon, it means people do not want it.
Move on, and pick a new quote.
How can this information help?
For one, you can now tell if a quote or idea is actively being searched for Amazon. Instead of hoping that a shirt with a low BSR will sell, you can actually see if it's something people are searching for.
In addition, you can see other recommendations. Notice in the example above, you could see a few different shirts you could make:
Don't Mess with a Nasty Women
Don't Mess with Cthulhu
Don't Mess with the Texas Flag
These must also be terms people are using to search for on Amazon! Use these in your bullet points, or create a whole new t-shirt with this information. It's up to you.
Let me show you a really cool tool called Merch Informer.
If you haven't heard of it before, I recommend you read my in-depth Merch Informer article.
Instead of doing any research directly on Amazon.com like I used to, Merch Informer connects to Amazon's API to pull down only data that is relevant to us Merch sellers.
No more opening a hundreds tabs, or downloading extensions that shows BSR, or clicking into products. Simply put-  it's awesome and saves me a ton of time.
It's free to try it out, so you should definitely give it a shot.
Merch Informer's Keyword Finder Module
The reason I'm telling you about Merch Informer is because they've custom built a Keyword Finder module into their software.
Keyword Finder utilizes Amazon's Autosuggest data to display auto-suggested results right on-screen.
Lets take a look at how the Keyword Finder works in Merch Informer.
First, log into your Merch Informer account. (if you don't have one – it's free to sign up and try it out here)
Click on Keyword Finder > Search.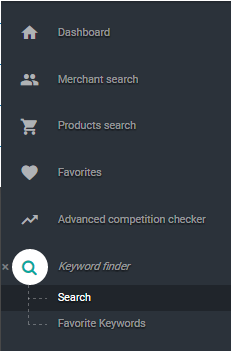 Type in a popular phrase. I'll be using "I just want to" for this example.

Look at all those results! After typing in only one phrase, I see at least 22 other designs I could now use for t-shirts. Or, if nothing else, I can add some of these keywords into my bullet points. And to take it one step further –  I can click on the "Keyword Finder" button for each of those results to view even more keywords.
Talking about finding a niche within a niche.
Not only can you find winning t-shirts, but you can:
Click the shopping cart to do research on that one design.
Check copyright of that quote.
Any any of these shirts to your Favorites.
Organize them into a custom category. (Maybe create a Baking or Coffee category, for instance)
Find even more keywords for each of those results.
Check the competition
If you guys haven't tried out Merch Informer yet, I highly recommend you do so.
Wrapping Up
Well, this guide is getting close to 2,000 words long, so I think I better wrap it up for today. If you guys have any questions regarding utilizing the autocomplete feature, feel free to comment below!
And if you enjoyed reading this article and would like future ones sent straight to your inbox – sign up here! I occasionally send out free fonts, vectors, and images for you all to use as a huge thank you. And don't forget to check out some other useful tools I use with Merch by Amazon.
Thanks for reading!
-Danny
Get some t-shirt idea inspiration below!