Hey guys!
Welcome to Merch Pursuits Income Report #4. 
This has been one heck of a month.
For most of us, this was our first holiday season selling on Merch. I'm not really sure what I expected from the holiday sales rush. I expected a small increase…but nothing like what actually happened.
From November to December, I nearly quadrupled my sales. I sold 4x as many shirts sold, and made 4x the profit.
I still can't upload any shirts, so I'm sure January will be a considerably slower month for me, but overall, December was a great month.
Let's talk about December 2016.
Previous Income Reports
If you haven't been following along, you should get up to speed by reading the previous income reports first.
Here they are!
Income Report #1: My first 30 Days on Merch
Income Report #3: 90 Days into Merch by Amazon
Current Month Income Report
Date Range: 12/1/16 – 12/31/2016
Tier Level: 25/Tier 1
Shirts Sold: 145
Total Profit: $832.25!
Marketing dollars spent:$0
Outsourcing dollars spent: $0

Month 4 Recap
In case you're too lazy to read through the previous reports…here's what my progression looks like:
In my first month, I made $61.65. Month two I made $121.06. During month 3, I made $223.16.
Now this month – $832!
As you can see, December was amazing.
It's safe to say there's a lot of money to be made on Merch, regardless of who you are or when you start your journey.
Shirts Sold This Month
This month, I sold 145 shirts!
Not only was it my biggest month of sales to date, I also had my biggest single day of sales last month.
16 shirts in one day!
To be able to end a Saturday $100 richer, just by having designs uploaded to Amazon is a pretty awesome feeling.
It's all a volume game. The more shirts you can upload, the more sales you will get.
Commission: Month 4
In my 4th month on Merch, I have earned $832.25 in royalties. That comes out to $5.74 profit PER SHIRT SOLD in December.
Last month, I was at $5.19 per shirt. The difference is about 50 cents higher this month.
So, why's this important?
Higher priced shirts seem to be selling better than lower priced ones.
Now, if I create a design similar to another shirt, and those are selling for $16.99 – I'll price mine at $16.99 too. Unless my design is significantly better, I price competitively more often than not.
Because I'm still in the 25 tier, I have a limited selection of designs I can upload. Designs that don't sell, or don't sell "well enough" for this time of year have been removed to make way for better designs, and most of the ones I have left are priced at 19.99, and are selling consistently every few days.
Copyright Infringement Scare
Last month was a scary month for us all. Amazon was swinging the mighty ban hammer left and right for a couple weeks.
Hundreds of thousands of shirts were removed. Hundreds of accounts were terminated overnight, with no chance of retrieving them.
Large accounts, small accounts, new accounts, old accounts – it didn't matter. If you infringed on anyone's copyright, you could be the next.
Guys – you need to double-check each and every design before you upload them to Merch. No exceptions. Use TESS, enter the phrase, and see if someone's filed for it.
I ended up removing  half my designs last month. I only have 12 designs live right now. Merch is no longer letting you put "Made in the USA" in your bullet points or descriptions – and I had to remove several of my best-selling designs to avoid getting my account terminated. I plan on re-uploading all of them with updated bullet points, but I'm still waiting for uploads to resume like everyone else.
Can I Upload New Designs?
Nope, I haven't had the ability to upload/edit shirts since December 4th.
I've sold 231 total shirts in 4 months on Merch, and I'm still in the 25 design tier.
No one really knows when the freeze will be over, or when Amazon will start tiering users back up. The last thing we've heard from Amazon is we should expect another response "in January".
Whether that means they are opening Merch up to new members, implementing new features in the Merch portal, tiering sellers up, or letting us upload designs again – we aren't sure. What I can tell you is that daily upload limits are coming. At the 25 tier, I'll only be able to upload 2 shirts a day.
I've got over 100 designs sitting in draft, ready to upload. If I'm really limited to uploading 2 designs a day, it would take me almost 2 months to upload what I currently have.
So, instead of creating over the past month, I've spent most of December working a little side project for Merch sellers.
It's called Merch Ready Designs.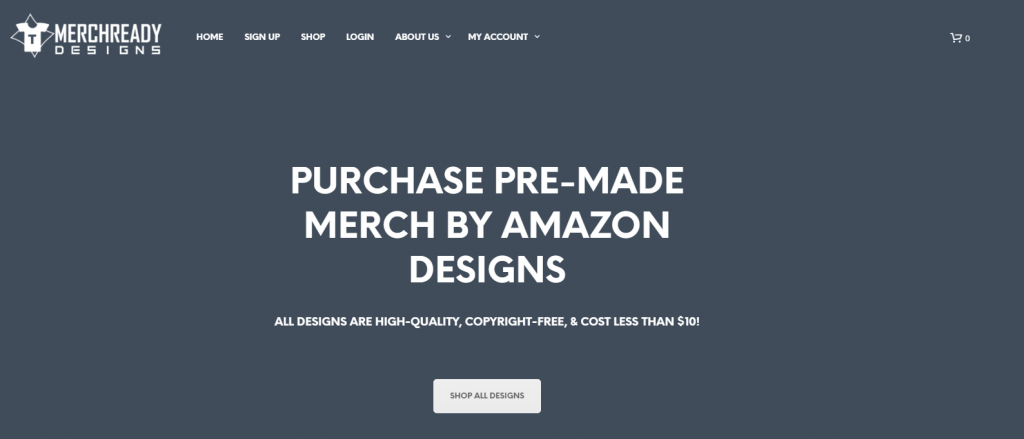 Merch Ready Designs
MerchReadyDesigns.com is an e-commerce shop where you can purchase professional, ready-to-upload Merch by Amazon t-shirt designs.
All designs are "Merch Ready", meaning once you purchase a design, they will be downloaded in 4500x5400px dimensions as transparent .png files.
When I created Merch Ready Designs, I had one goal in mind: To make it as simple as possible for anyone to get started with Merch by Amazon.
Instead of spending time researching ideas, finding designers, negotiating prices, or creating your own designs, you can purchase ours pre-made Merch by Amazon designs. Literally all you have to do is browse our store, find a few designs, and then you can download them immediately after purchase. Every single design is a design I'd upload to my own account.
All designs are:
Less than $10
Created by professional t-shirt designers
Copyright & trademark free
Correct Merch dimensions (4500x5400px)
Transparent .png file format
Downloaded instantly after purchase
­
Merch Ready Designs was created to help anyone at any stage of their Merch journey.
I would love for you guys to visit my site and see some of the designs we have to offer. I think you'll be impressed.
Wrapping Up
That's about it for December! I was hoping this income report would be longer, but with the ongoing Merch freeze, there just isn't much to report other than sales number.
I hope all of you had a great sales month, and if you have any questions – please leave me a comment below!
-Danny
Get some t-shirt idea inspiration below!