Hey all!
Welcome back to another Merch Pursuits income report!
I hope all of you had a great Thanksgiving. I hope took time out of your busy schedule to visit family, eat great food, and just take a day or two to relax before the Christmas holiday season. I know I did.
My wife and I decided to take our kids to North Carolina to visit family and friends this year. 18 hours in the car is an especially long drive for our kids (especially my 8 month old), but we made it through and ended up having a great time.
I have to admit though, it's pretty hard to fully disconnect from Merch – even on vacation. I still checked on sales, I still wrote down design ideas as I thought of them, and still responded to all of your questions here.
As far as sales go – I had a FANTASTIC November!
In the words of Daniel Caudill, "I've definitely felt the power of Thanksgiving this week."
I've doubled my sales month over over, every single month since starting on my Merch journey, and this month was no exception.
Check out my income report below!
Previous Income Reports
Income Report #1: My first 30 Days on Merch
Current Month Income Report
Date Range: 11/1/16 – 12/1/2016
Total Designs Uploaded/Tier Level: 25/Tier 1 (see below)
Shirts Sold: 43
Total Profit: $223.16
Marketing dollars spent:$0
Outsourcing dollars spent: $0

Month 3 Recap
As you can see, I had a heck of a month(for the very first tier, that is).
$223!
Just like the rest of you – I'm STILL in the 25 shirt tier. I like to call it 'Tiering Up Purgatory" . For only being able to upload 25 designs, I'm pretty happy.
A bit of good news though – I have seen reportz of 10 or 15 individuals report that they've been recently tiered up from the 100 to 500 slot. So, I'm remaining hopeful!
If you've been following along, you know that Amazon tiers users up in chunks. I SHOULD have been tiered up 2 months ago. A lot of us should have. It looks like they are reaching max capacity as of late, and have stopped tiering users up temporarily as they scale production.
On the upside – I've surpassed the 100 total sales mark (Since I'm posting this a few days into December), so I SHOULD skip the 100 shirt tier altogether.
Shirts Sold This Month
As you can see from the image above, I've sold a whopping 43 shirts!
I was rereading my Month 2 case study, and noticed I mentioned I sold exactly 43 shirts total in my first two months combined.
So to have 1 months sell as much as 2 months combined is just crazy to me.
I can't say for sure that it was Thanksgiving, or Black Friday, because the entire week leading up to Thanksgiving was fantastic. I'm sure since everyone had days off and everyone wanted to get their Christmas shopping done early I made a few extra sales. I'm almost certain those back to back holidays contributed to my jump in sales.
As always, if you're wondering how I was able to get started, I've written some really in-depth posts specifically for Merch by Amazon sellers.
See links below:
Ultimate Starting Out with Merch Guide & Tutorial
Optimizing Keywords and Product Descriptions
How To do Merch by Amazon Research
Same as last month, I only had 1 t-shirt returned. Pretty happy about that.
Of my 25 designs I have uploaded, 12 of them sold 1 or more shirts. 5 of those sold 5 shirts or more. I'm really happy with that.

Commission: Month 3
In my 3rd month of Merch by Amazon, I have made $223.14! That comes out to $5.19 profit from each and every shirt that I sell.
That's a $.50 increase since Month 2.
Let's take a step back for a second…
Month 1: $61.65 / 3.61 per shirt
Month 2: $121.65 / 4.65 per shirt
Now: 223.14 / $5.19 per shirt
So, not only have I sold 4 times as many shirts this month as I did during my first month, I've increased the per-shirt price $1.50 too!
How Do I Price My Shirts?
This is a question I get asked pretty regularly.
Competitively.
If I find a design with only 4 or 5 other sellers, and they are priced at $19.99, I'm going to price mine at $19.99 also. If the prices range between $15.99 and $19.99, and I think my design is better – I'm going to charge $19.99.
If the best selling shirts for that quote are selling at $15.99, and I see 3 others selling at that price point, and no one is purchasing the $20 one – I'm going to price mine at $15.99 also.
At the end of the day, I would rather make a few sales here and there at a lower price point than be greedy and not make any sales at all.
Marketing & Sharing
100% of my sales have still been organic. Partly due to lack of time, and partly due to people saying Facebook ads don't really work.
I haven't experimented with sharing in various niche-relevant Facebook groups, either, although I can imagine in certain groups that could do really well.
I'd like to experiment with Pinterest marketing, but for now, I'm sticking with what's working and for me and everyone else, relying on Amazon's organic traffic has been very successful for me.
Organic, Trending, or Seasonal?
Because I'm still in the 25 shirt tier, I have to be very careful with what t-shirts I choose to upload. I only have 25 slots available.
If I upload 25 Thanksgiving shirts, by Christmas I won't be seeing any sales.
I'd say about 85% of my designs are evergreen. An evergreen niche is a niche that remains constant as time passes or as trends change.
I do have a couple seasonal shirts (not holiday, seasonal).
I know some people like to chase trends, and are probably making a killing doing that, but I prefer the slow and steady route. A few of my best sellers this month were the seasonal ones, so unless I get tiered up here soon – I may have to remove them once the season ends…
Otherwise, my sales may dramatically decrease.
For the week of Dec 4,2016 – Dec 9, 2016, Amazon left us another lovely message in our Merch dashboard that says this: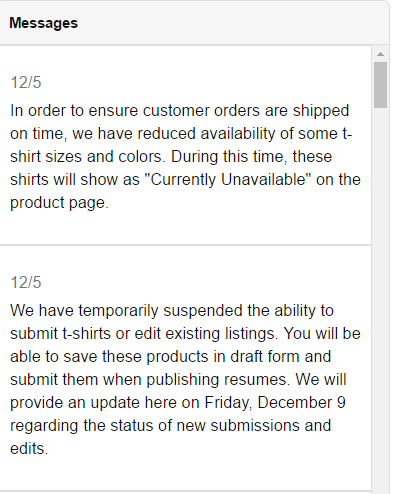 It's too early to tell if this will affect me or not yet, but I would guess it will. So, who knows how December will pan out.
I'm hoping Christmas sales will give me my best month yet!
Total Shirts Sold (as of this month)
From 9/1/16 – 12/1/16, I have sold 86 t-shirts.
Did you catch my hint earlier?
I've sold over 100 designs.
That means once they decide to tier everyone up, I will automatically be in the 500 shirt tier!
Which means – I need to get designing. Or outsourcing. I've personally created 100-125 designs so far, but at this point, it seems like a huge job to sit down and design ~400 designs for the next tier. It spend enough time researching ideas, discovering keywords, and uploading to Amazon that designing shirts is one of the last things I want to do.
Plus, there are much more qualified designers out there than I am.
The next logical step for me is to start outsourcing designs.
Outsourcing
I've just started vetting designers, so I won't go into detail just yet about finding designers. I want to make sure I have a system down before telling all of you the best way to go about hiring a designer.
But, that will be one of my next posts.
I've found a couple of really quality designers so far. I've sent them a few "test "t-shirt ideas so  I can see how they perform in the following areas. The things I'm primarily looking for in a designer is:
Familiarity with Merch by Amazon
Responsiveness
Quality
Price
Turn around time
Changes From Month to Month
What do I attribute my success to?
I've completely changed my workflow (which I'll make a post about soon, too).
I used to use Merchresearch.com, type in a phrase, and it would open a new Amazon.com window in the Novelty & More section. I'd then have to download a Chrome extension to display BSR, and before I knew it – I'd have 100 tabs open and I'd run out of memory in Chrome.
It just wasn't efficient.
I now use Merch Informer, which is a tool designed by 2 VERY successful Merch sellers, and has helped streamline by workflow tremendously.
I use Merch Informer to:
Search by product/store
View only important Merch data in one easy-to-view screen
Favorite t-shirts ideas, and categorize them in any way I want
Use Amazon auto-suggest to suggest new keywords
Check the competition of your idea/quote
Listing Optimizer
Check Trademarkia for trademarks
Report copyright infringment
Here's a screenshot of what it looks like: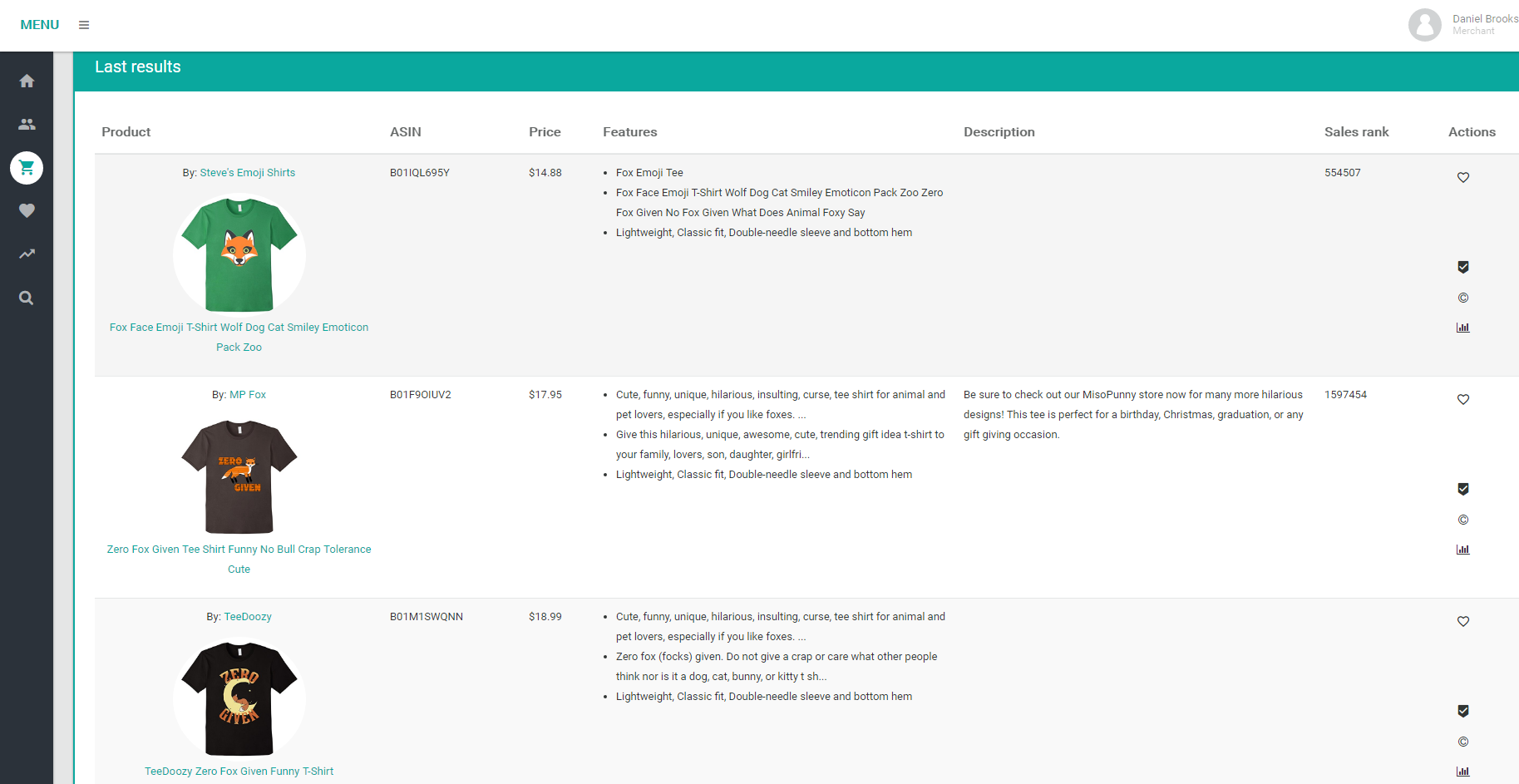 I've written a much more in-depth post about Merch Informer here, but if you want, it's free to give it a test drive here.
I highly, highly recommend trying it out.
Finishing Up
As you can see, I've had a pretty good month. I'd like to see my sales jump even higher for December. It's all dependant on Amazon at this point.
If I tier up, I have 75 more designs already in uploaded in Draft Mode in Merch, and will definitely be able to go higher.
If I don't tier up, and January comes around, I'm worried I'll have to start removing a few of my better selling designs because holidays/seasonal will be over with.
My focus for now is to find 1-2 designers, and get 400 merch-ready designs created, so I can upload those to Draft status as well.
Thanks for reading! Comment below with how well you did in November!
-Danny